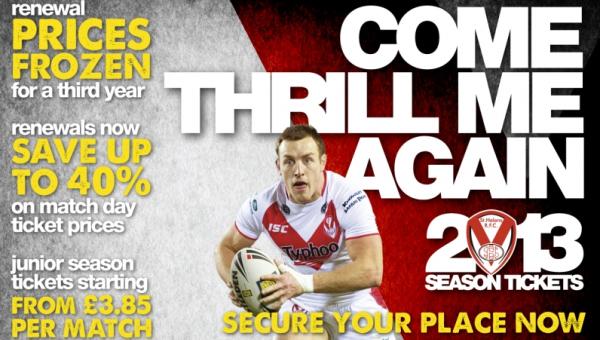 SAINTS would like to thank their fantastic support after more than 3,000 fans bought Season Tickets for 2013 in the last three weeks.
They took advantage of the early renewal incentive and will watch the Club's Captains Run this Saturday before the Saints travel to Wakefield a day later as well as enjoying 40 per cent off the away shirt.
Renewal prices have been frozen for the third consecutive year which means as well as watching your super Saints at Langtree Park for the same price as Knowsley Road in 2010 you can also save 40 per cent on comparable full price Match Day tickets.
Across the Stadium, 33 per cent of capacity have been reduced in price too with some Family Season Tickets £54 less than last season (based on a family of five).
New purchasers can also save ten per cent off full price season tickets, the equivalent of three matches at the same price as Knowsley Road 2006, by taking advantage of our Early-bird discount.
And, our Early-bird Junior Season Tickets are still cheaper than 2006 prices at Knowsley Road with season tickets starting from the equivalent of just £3.85 per match. All Junior Season Ticket Holders are entitled to free tickets to all away games (subject to availability).
Family Season Tickets start from the equivalent of under £6, per person per match (based on a family of 5) with under-5s free when accompanied by an adult.
And there's more – Season Ticket Holders also receive five per cent off all Saints ISC leisurewear, 50 per cent off Magic Weekend Tickets, reduced Match Day fares on Arriva bus services in St Helens, priority for cup and playoff tickets and discounted away travel.
To find out more click here to download the Season Ticket Brochure . You can also view our 2013 Season Ticket section.
You can buy from the Ticket Office at Langtree Park, by calling 01744 455 052 or for Early Bird purchases via www.saintssuperstore.com
#comethrillmeagain