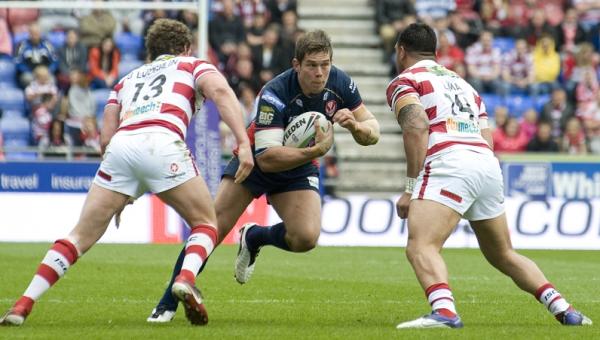 LOUIE McCarthy-Scarsbrook says matches against the Broncos are always the ones he looks out for at the beginning of the season.
Since joining the Club in 2011, 'LMS' has been one of Saints most consistent performers and is anticipating another big end to the campaign – starting tonight with a game against his former employers.
"I can't wait to play them," he said. "I always look for games against London; they are the games I look forward to.
"A couple of the old boys are still there and I will say hello to them. I might even pop to the hotel the night before and see if they want a chat.
"They've picked up some form in the last few weeks and Tony Rea has made a big difference. But I always knew they were a good team when all their players are fit and on the field.
"Tony gave me my debut and got me started on the road of rugby league and I am grateful for that as I am up here playing for one of the best clubs in the world. I owe him a lot; he got me on the path."
Louie played 97 times for Quins but ultimately there's no room for sentiment.
"We're coming into this game on the back of a good win," he added. "We had two bad losses and we weren't happy with that. The mood was terrible but now we are upbeat and thinking ahead.
"We have London, Wigan and then into the Playoffs. The intensity will jump them and the boys are raring to go.
"We haven't peaked yet; we are grinding at the stone. But come the end of the season we will be there."
Tickets for tonight's game will be on sale right up until kick off from the Ticket Office. You can also use the cash turnstiles in the North and East Stands. You can also renew your season tickets at the Ticket Office too.