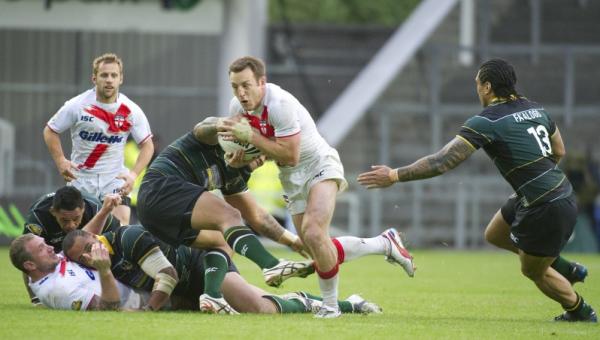 ENGLAND Rugby League are to take their preparations for the 2013 Rugby League World Cup to new heights by embarking on a ten-day high-altitude training camp in South Africa next month.
A 24-man squad, comprising members of the Elite Training Squad and the team's NRL-based internationals, will leave the UK on Wednesday October 10. The squad will be based at the highly-acclaimed North-West University Training Centre at Potchefstroom, regarded as one the best sports campuses in South Africa.
England coach Steve McNamara will be hoping his meticulous plans will enable the national outfit to replicate the Spanish football team, who were based at the campus during the 2010 FIFA World Cup before going onto win their first world title.
"I am very excited that we will be taking our elite players to a high-altitude training camp," said McNamara. "We have looked at training camps across the world and have found the best facilities to give the players everything they need in their preparation. We believe we are the first international Rugby League team to train at high-altitude and it will be something new for the players.
"Our preparation and planning will be vital over the year ahead. We have to give the players every opportunity to reach their full potential if we are going to fulfil our objective of winning the Rugby League World Cup in 2013."
The Elite squad, who were given a full briefing at this week's England get-together, will see huge benefits from the camp, which will improve their overall performance according to England's national team performance manager Mark Bitcon.
"Over the past year we have done lots of research in the planning of this camp," said Bitcon. "The facilities at Potchefstroom are world class and our players will have never experienced anything like it before. Some of Britain's Olympians used the facilities in the build-up to London 2012 and it was Spain's base before they went onto win the World Cup two years ago.
"Our aim is to have the best-prepared squad in the world ahead of next year's Rugby League World Cup. We are believers in thinking outside of the box and giving the players every opportunity of beating the Australians and New Zealanders in a major tournament.
"The benefits will be immense. With up to 20 per cent less oxygen in the atmosphere it is more difficult to perform. The players will profit from enhanced game-specific endurance and improved oxygen uptake.
"The fact that nobody has done it before in Rugby League is pioneering and from the impact it has had on other elite athletes, we should see our players make some significant gains."
The 24-man squad, that will represent England in South Africa and in the autumn internationals, will be announced on Wednesday October 1.