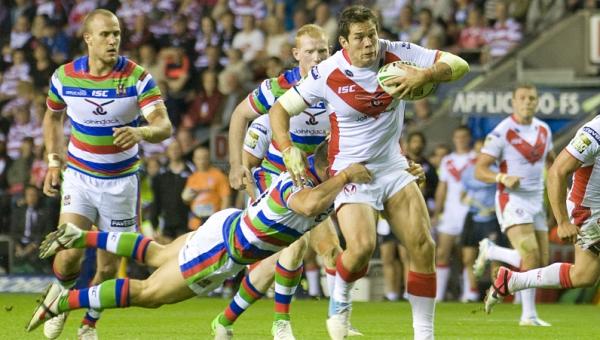 MIKE Rush has reiterated the importance of last Friday's win over Wigan as Saints go for Stobart Super League Playoff glory.
His side beat the Warriors 26-18 in their final match of the regular season to set up tomorrow's clash with Warrington.
And it's Saints' commitment and overall performance that pleased him most.
"Leading up the sending off I thought we were the better side," he said. "It was important for us we started well in light of recent performances and the criticism of them.
"Huddersfield proved that playing with 12 men doesn't always guarantee you will get beat. Sending offs become talking points but they shouldn't take away from how good we were at the weekend.
"We needed to go into the Playoffs having beaten a team above us and also to get the monkey off our backs too. We've now had a little bit of success against all the teams around us and that is important. It was a big win and enjoyable for the players."
Saints are the only team to beat Warrington at the Halliwell Jones Stadium this season and Rush is in no doubt they can do that again.
"Back in March we were well down the table, went there and won and now we are third," he added. "That is a reflection of how far we've come. We've climbed the ladder slowly and have gone under the radar.
"We head into this game on the back of a win and have had an extra day recovery too. We know it will be a real challenge to win there, they have a good squad and we will need to be at our best to get through.
"You have to respect the likes of Brett Hodgson, Lee Briers, Joel and Michael Monaghan, Garreth Carvell and show your players what attributes they have.
"But we don't go there in fear. We have to put pressure on them and let them worry about Robes, Sia, Jonny and TP. We will need to win it up front and make it hard to come off their goal line. We have won there before and can do again."
Tickets for the match, which kicks off at 6pm on Saturday September 15 at the Halliwell Jones Stadium in Warrington, are still on sale.
You can buy from the Ticket Office at Langtree Park up until 3pm on Saturday.