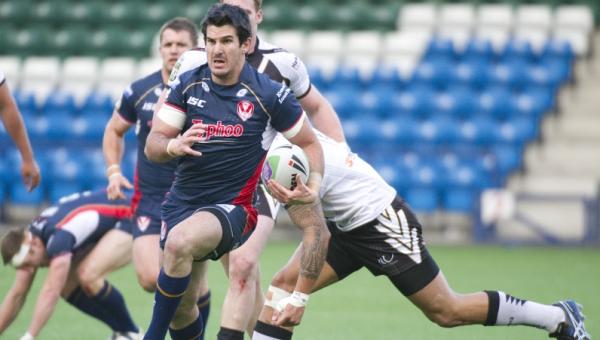 SAINTS have announced their squad for Saturday's Super League Playoff Semi Final with Warrington Wolves.
Chris Flannery returns to the side after being out for the last couple of weeks but Michael Shenton hasn't recovered from a hand injury sustained in the win over Wigan Warriors.
The squad is:
1. Paul Wellens, 2. Ade Gardner, 4. Sia Soliola, 5. Francis Meli, 6. Lance Hohaia, 7. Jonny Lomax, 8. Josh Perry, 9. James Roby, 10. Louie McCarthy-Scarsbrook, 11. Tony Puletua, 12. Jon Wilkin, 13. Chris Flannery, 14. Anthony Laffranchi, 15. Mark Flanagan, 16. Paul Clough, 17. Gary Wheeler, 19. Andy Dixon, 21. Tommy Makinson, 26. Josh Jones.
Tony Smith's Warrington side will be chosen from:
1. Brett Hodgson, 2. Chris Riley, 4. Ryan Atkins, 5. Joel Monaghan, 6. Lee Briers, 7. Richie Myler, 8. Adrian Morley, 9. Michael Monaghan, 10. Garreth Carvell, 11. Trent Waterhouse, 12. Ben Westwood, 13. Ben Harrison, 14. Micky Higham, 15. Simon Grix, 16. Paul Wood, 17. Mike Cooper, 19. Stefan Ratchford , 20. Chris Hill, 21. Tyrone McCarthy.
The game kicks off at 6.15pm and the referee is Ben Thaler.
Tickets are on sale for the game too and details are here.
Stat Pack:
Last Ten Meetings:
Warrington 6, St Helens 28 (SLQPO, 15/9/12)
St Helens 12, Warrington 22 (SLR23, 6/8/12)
Warrington 16, St Helens 28 (SLR9, 30/3/12)
Warrington 35, St Helens 28 (SLR19, 24/6/11)
St Helens 18, Warrington 25 (SLR3, 25/2/11)
St Helens 28, Warrington 12 (SLQPO, 10/9/10)
Warrington 24, St Helens 26 (SLR24, 31/7/10)
St Helens 28, Warrington 18 (SLR7, 19/3/10)
Warrington 26, St Helens 40 (SLR20, 11/7/09)
St Helens 26, Warrington 14 (SLR1, 13/2/09)
Previous Playoff Meetings:
Warrington 6, St Helens 28 (SLQPO, 15/9/12)
St Helens 28, Warrington 12 (SLQPO, 10/9/10)
Super League Summary:
St Helens won 37 (includes wins in 2010 and 2012 play-offs)
Warrington won 4
2 draws
Highs and Lows:
St Helens highest score: 72-2 (H, 2002) (also widest margin)
Warrington highest score: 56-22 (H, 2001) (also widest margin)