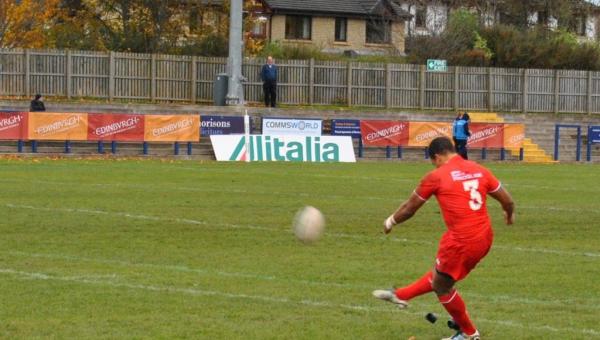 ENGLAND Knights concluded their impressive Alitalia European Cup campaign with a resounding 62-24 victory over Scotland in Edinburgh, securing the competition title in the process.
Knights coach Kieron Purtill was forced to make late changes to the squad after Shaun Lunt and Luke Gale withdraw due to injury and Michael Lawrence was struck down through illness, but the new looks Knights wasted no time in picking up from where they left off following last week's 56-4 victory over Ireland.
Scotland opened the scoring with just under five minutes played when prop Mitchel Stringer barrelled his way to cross underneath the posts, benefitting from a powerful run from winger Alex Hurst.
David Scott added the extra two points to give the home side and early 6-0 lead.
England reduced the deficit just three minutes later however when loose forward Mike Cooper showed strength to free his hands in the tackle and off-load to Dan Sarginson, who showed a clean pair of heels to the defence.
Just moments later England took the lead for the first time in the game when George Burgess powered his way over from close range, with centre come half-back Jordan Tuner (pictured) converting to make it 12-6.
With the Knights firmly in control, Jodie Broughton added his first try of the evening shortly after when he crossed in the corner, with Turner slotting a superb touchline conversion to make it 18-6.
Sarginson added his second of the game just after the 25 minute mark when a heavy tackle from Mike Cooper forced an error from Scotland and Sarginson was on hand to gather the loose ball and coast home.
The next possession saw Scotland's Lee Paterson reduce the deficit for the home side when he exploited a gap in the defence to touch down and another well struck goal from Scott brought the score-line back to 24-12.
England re-established the ascendency just minutes later when a powerful run from Tom Burgess, which freed Daryl Clark and Greg Eden to combine in midfield, set up Turner to cross in acres of space.
A golden opportunity was wasted by the home side just as the half-time siren went to take the sides into the break at 28-12.
The Knights began the second half in a flurry and it took just two minutes for Rhys Evans to display some dazzling footwork and find his way over the line before a superb solo run by Kieran Dixon had the Scottish defence in disarray, allowing Broughton to add an easy second of the afternoon.
Evans then completed a personal quick fire double when he slid in at the corner on the 55 minute mark but that came after Scotland had added to their tally through second row Brett Phillips.
With 15 minutes left on the clock, Ben Currie, a late call in to the squad, off loaded to Turner who showed quick feet to wrong foot the full-back and put Scott Taylor through into space.
The prop then added a second try two minutes later when a smart kick from Sarginson found Ben Jones Bishop in space and Taylor was on hand to finish the resulting play-the-ball.
A whirlwind five minute spell for England then saw Kieran Dixon finish a 70 meter solo effort to take the score to 62-18 with under ten minutes remaining.
Scotland scored their fourth of the game following a scrappy period of play from both sides when interchange Craig Borthwick crashed over with just five minutes remaining but it proved to be the final action as England Knights were crowned Alitalia European Cup champions on the final whistle.
"It's great to get the first bit of silverware on board for this group," said Purtill. "There were some very good performances out there today and it was pleasing to top that off with a trophy.
"It's the first trophy I've won as a coach and the first for the Knights as a group and you could see that a lot of the lads out there really enjoyed that experience.
"They've put a bit of pressure on the next group of Knights coming through – we talk about setting the standard for the next groups to follow and they've certainly raised the bar.
"We were unfortunate during the week to lose Shaun Lunt and Luke Gale to injury and Michael Lawrence to illness and that probably disjointed us a little in our preparation but the lads pulled through together and showed great spirit.
"A special mention goes to Ben Currie who came on board late and showed the right attitude and the right spirit to be involved and that's been a key factor in this group.
"The personality of the group has been great and probably the I've dealt with both on and off the pitch and they have been a credit to the England badge everywhere we have went."
England Knights:
1 Ben Jones-Bishop (Leeds Rhinos, Queens)
2 Kieran Dixon (London Broncos, Hemel Stags)
3 Greg Eden (Huddersfield Giants, Castleford Lock Lane)
4 Rhys Evans (Warrington Wolves, Burtonwood Bulldogs)
5 Jodie Broughton (Salford City Reds, Queens)
6 Jordan Turner (Hull FC, Waterhead)
7 Dan Sarginson (London Broncos, Hemel Hempstead Stags)
8 George Burgess (South Sydney Rabbitohs, Dewsbury Moor)
9 Danny Houghton (C) (Hull FC, East Hull )
10 Tom Burgess (Bradford Bulls, Dewsbury Moor)
11 Jack Hughes (Wigan Warriors, Wigan St Judes)
12 Chris Clarkson (Leeds Rhinos, East Leeds)
13 Mike Cooper (Warrington Wolves, Latchford Albion)
14 Scott Taylor (Hull KR, Skirlaugh Bulls)
15 Daryl Clark (Castleford Tigers, Castleford Lock Lane)
16 Ben Currie (Warrington Wolves, Parkside Golbourn)
17 Chris Riley (Warrington Wolves, Woolston Rovers)
Tries: Sarginson 2, G.Burgess, Broughton 2, Turner, Evans 2, Taylor 2, Dixon
Goals: Turner 9
Scotland Squad:
1, Brett Carter (Workington Town)
2, Alex Hurst (Swinton Lions)
3, Josh Barlow (Halifax)
4, Ben Hellewell (Warrington Wolves)
5, David Scott (Hull Kingston Rovers)
6, Lee Paterson (Mackay Cutters)
7, Andrew Henderson C (Sheffield Eagles)
8, Jack Howieson (Sheffield Eagles)
9, Ben Fisher (Catalans Dragons)
10, Mitchell Stringer (Sheffield Eagles)
11, Brett Phillips (Workington Town)
12, Alex Szostak (Sheffield Eagles)
13, Sam Barlow (Halifax)
14, Callum Cockburn (Edinburgh Eagles)
15, Jonathan Walker (Castleford Tigers)
16, Adam Walker (Huddersfield Giants)
17, Craig Borthwick (Edinburgh Eagles)
Tries: Stringer, Paterson, Phillips, Borthwick,
Goals: Scott 4
Referee: Shane Rehm
Half-time Score: 28-12