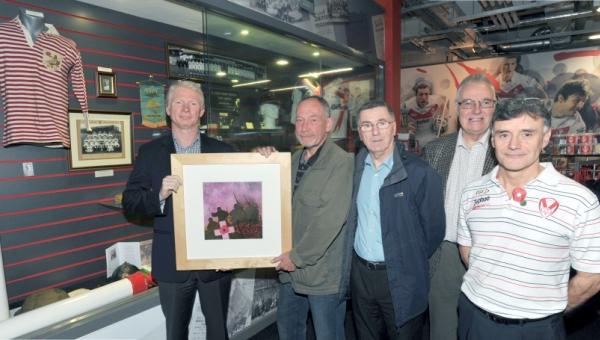 THE Heritage Alcove, situated in the Saints Superstore at Langtree Stadium, features a display that commemorates the links between the Club and those who have represented their country in the armed forces.
Pride of place is the Lancashire County jersey belonging to Jimmy Flanagan who was killed in action in France in May 1918.
Amongst the other memorabilia are several soldiers' helmets from the First World War, lent by Peter Butterworth, whose painting, the Fallen Five, is also on show.
This marvellous artwork is a lasting memorial to those Saints' players who fell in the First World War – Jim Flanagan, James Ford, Jimmy Greenwood, George Sephton and Hubert Sidney 'Jum' Turtill from New Zealand.
Paul Clough's signed match-worn jersey from the Hull KR match, auctioned in aid of ABF The Soldiers' Charity is also displayed.
The display was opened by Chairman Eamonn McManus, whose father was a prisoner of war in the Far East during World War Two.
Also in attendance were artist Peter Butterworth, Jimmy Flanagan, grandson of the great Saints' and Lancashire winger, Dave Dooley, who wrote a poem in his book Saints Verses about the Fallen Five and Saints' Community Development Director Gordon Pennington, who is a former RAF officer with more than 20 years service."