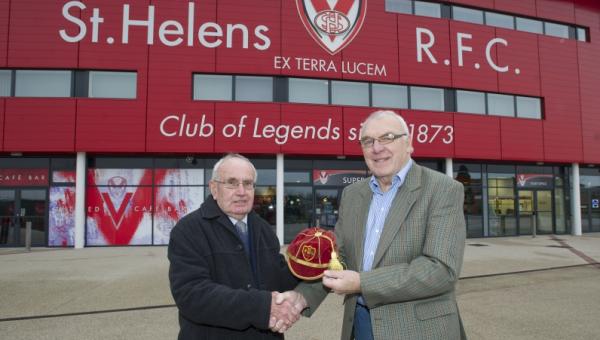 SAINTS Heritage collection received a most welcome Christmas boost when one of Alan Prescott's international caps was presented to the club.
In a special handover, Frank Dickinson, from Wigan saw the iconic cap placed in the Heritage Alcove in the Saints' Superstore.
"It really does seem appropriate that the cap has come home," said Frank, who had previously enjoyed a tour of the stadium with Kel Coslett and later presented the cap to the Saints' Club President, with Les Kay, Peter Harvey and Alex Service also in attendance.
Peter Harvey explained the circumstances behind the presentation: "Frank met [former Pilkington Recs star] Les Kay while they were on holiday in Torquay and mentioned to him that he had Alan Prescott's Test cap, but he didn't know what to do with it
"Les phoned me from their hotel and the end result is that the cap is here at Langtree Park! I never played with, nor for Alan, but I met him a number of times when the Past Players Association was formed and he was always a very considerate gentleman.
"He was a real St. Helens icon, as a player, club captain, international captain and leader of men. Many people knew him far better than me, but it was my telephone number that Les Kay had in his pocket that night in Torquay. Thank you to Les and even greater thanks to Frank Dickinson for looking after that cap, given into his safekeeping."