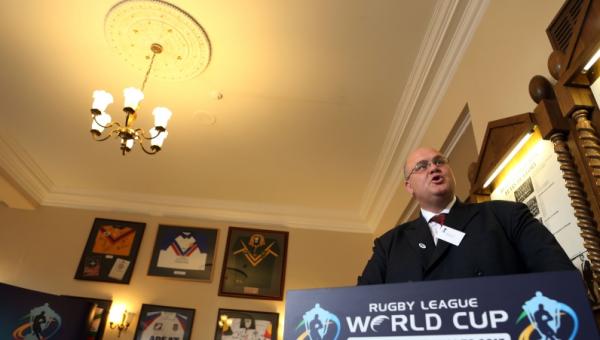 RFL Chief Executive Nigel Wood says 2013 will be Rugby League's most important year since Super League began.
"2013 promises to be a hugely exciting year for Rugby League," he said, "with the widest geographic range of clubs ever taking part across Super League and the Championships, followed by a home Rugby League World Cup in England and Wales, the next international sporting event to be held in the UK after the 2012 Olympics.
"I believe 2013 will be Rugby League's most important year since we made the seismic shift to establish Super League back in 1996. The sporting eye of the nation will be upon the game and this will give us a fantastic chance to showcase this great sport to new audiences. It is vital that we make the most of the chance the year ahead brings to develop for the long term.
"I hope all Rugby League fans will take the opportunity a major sports event like a World Cup brings to encourage people, including friends and family, who may not have experienced Rugby League before, to come and sample the atmosphere at one of the matches.
"There is an amazing range of fixtures taking place across England and Wales, as well as games in France and Ireland, and I know many people have already taken advantage of the great value packages available, including special offers for clubs and families who want to make group bookings. All the information is at www.rlwc2013.com.
"I would like to thank everyone who has volunteered already to be part of the World Cup team. We have had interest from right across the country in being involved and I am sure that, like in London 2012, we will have a wonderful group of volunteers at all our venues.
"Ahead of Rugby League World Cup 2013 in the autumn we have an exciting season in prospect for Super League and the new-look Championships, as well as the Challenge Cup and Northern Rail Cup.
" The new Super League season kicks off in just a few weeks and in a World Cup year, the added incentive for players to stake their claim to be part of their national teams, will only add to what promises to be a highly competitive season. The 2012 season and play-offs showcased how the top teams in Super League are producing thrilling sporting encounters, which are being enjoyed in record numbers, both at games and on television. The regular Super League season saw a 6.7 per cent increase in attendances – the highest aggregate attendance since Super League's inception in 1996. Our Super League broadcast partner Sky Sports have also experienced record viewing figures during 2012.
"There are, of course, challenges ahead and we are very aware of these. We continue to work with clubs, in what as everyone knows is a difficult economic climate, to build for the long term future of the game. While things may move slower than we would like in the current economic situation, it is encouraging for example to see more ground improvements being advanced, with Wakefield Trinity Wildcats the latest team to receive the go ahead for their exciting new stadium plans.
"One of the greatest sporting rivalries in the world will see battle commence between England and Australia on February 22 when Leeds Rhinos take on Melbourne Storm in the World Club Challenge at Headingley Carnegie Stadium. Our leading Super League Clubs have a proud record against their NRL opponents and I am sure we will see another high-quality contest in 2013.
"In the new-look Championships we will welcome three new Rugby League clubs to the competition, from Gloucester, Hemel Hempstead and Oxford. These new clubs show how the game is expanding outside traditional areas and are part of the RFL's vision to grow the game across the country. They join a competition, which reaches from North East England to South Wales, and Cumbria to London, and I look forward to an exciting season ahead in both the Championship and Championship One.
"In the community game 2013 will mark the second season of the new summer Rugby League calendar, a major innovation undertaken by the governing body to develop the sport. In reviewing the first summer season I am greatly encourage by the positive reaction we have received from so many clubs, covering areas like improved training and playing conditions, a better atmosphere to welcome new players, and other benefits like savings clubs have made on heating and lighting costs. I want to pay tribute to coaches, players, officials, parents and everyone involved in running community clubs for making the switch so effective in 2012.
"Finally can I add my congratulations to Paul Sculthorpe, the only man ever to win back-to-back Man of Steel awards, on being awarded the MBE in the New Year Honours List for his outstanding services to Rugby League and charity.
"Here's to a great year in prospect for Rugby League in 2013 and Happy New Year to Rugby League fans everywhere."
You can secure your season ticket for Saints 2013 campaign by clicking here.