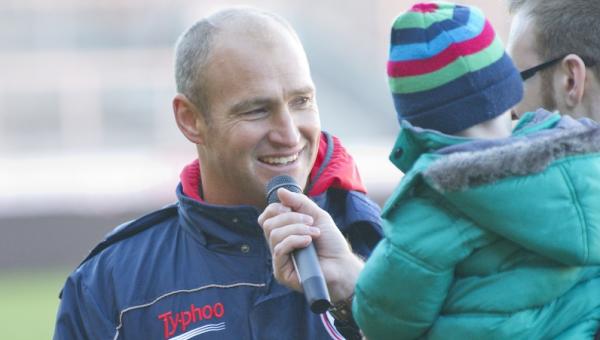 NATHAN Brown is excited by Saints prospects this season and believes the players have already made progress.
As he prepares to face former club Huddersfield Giants in a friendly this Friday he's spoken of expectations for the new campaign.
"It's been enjoyable so far and we are all excited," he said. "We are training well and I suppose there's no pressure of games week in week out so we're excited at what lies ahead.
"We feel like we've achieved some progress in pre-season but I suppose you will never know until we play some games. We feel like we are headed in the right direction.
"It's been helpful having most of the players training for most of the time. James Roby and Jon Wilkin will have had a proper break and pre-season which is better for us and England in the future."
Brown signed a three-year deal with Saints in April and after he left Huddersfield midway through the season returned to Australia for six weeks.
"It was a good thing," he added. "I'd not had a break for a long time. We came back to this country and are now settled in St Helens. We loved our time in Holmfirth and met some great friends.
"Now this is a new challenge. This club carries a lot of tradition – that was the same at St George and at Huddersfield. Over the last 20 years this club has had a winning tradition and the fans, players and bosses want trophies. In the past they have been close. Culturally that shows that there are some good things happening here; nearly winning, we need to add one or two small things and individual improvement to take us to a higher level.
"When you see the likes of Jon Wilkin, James Roby and Paul Wellens prepare and train, it is first class. The better players appear to be best trainers and that rubs off on the other players. Jonny Lomax has come through the system here and his training ethic resembles those players. I am impressed by that."
He continues: "I understand where the Club is at and I know what is expected. The players expect a lot though too and they prepare and train to do that.
"There are a number of players that have appeared in Grand Finals and Challenge Cup Finals and they expect to be there and expect it of the younger players. We are only expecting what they have done for a period time.
"It doesn't matter where you coach you are under pressure for different reasons. If you aren't under specific pressure then you put it on yourself anyway. Sometimes you aren't expected to win trophies, just to improve and success is measured differently are different clubs.
"Here, we are judged on winning, that is the culture of the club. It is a job a number of coaches would want and I feel privileged to be here.
"Friday's game will be interesting. In all my playing and coaching career I have never gone against a former club before and I'm looking forward to it."
Tickets for the match which kicks off at 8pm on Friday January 11 are now on sale. You can buy from the Ticket Office at Langtree Park, by calling 01744 455 052 or by logging on here.
You can also pay on the day.
Prices are: