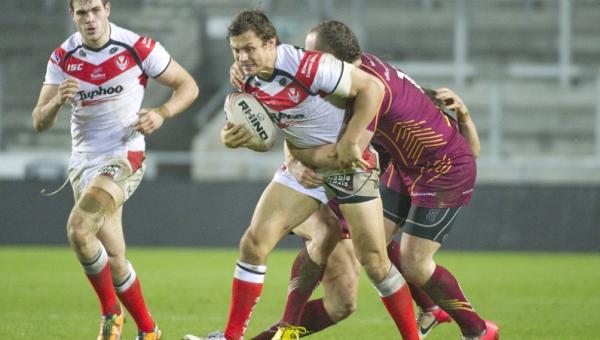 JON Wilkin has been reflecting on a decade of success at the Saints.
Ahead of his Testimonial match on Sunday against Wakefield Trinity Wildcats he says the past ten years have completely surpassed expectations – even though he had none when he signed from Hull KR in 2003.
"It's actually difficult to say whether I have achieved anything as my expectations were so low!" he said. "When I came to Saints, I incrementally set myself goals and achieved them as they I went through my career.
"Now my biggest goal after winning the World Club Challenge, Challenge Cup and Super League, and now Paul Sculthorpe, Keiron Cunningham and Sean Long aren't playing, is to win something as a group away from that. I want to put to bed the last four years as people have questioned whether we are good enough.
"I want us to win something without Sean, Kez and Scully; the best players in the world in their positions. There will be never be a time like that again when three world class players are at any club due to the Salary Cap… so that is my goal.
"I suppose my career is split in terms of final appearances and winning trophies. I did so much earlier in my career and it is hard to watch finals now.
"I can remember what it is like to pick up a trophy or be on your haunches because you have lost. Regardless of what side of the coin you're on though you want to be there. I have been to so many Grand Finals and the difference between winning and losing is such a fine line and it has been exaggerated by the fact we haven't won anything over the last few years.
"For a long period in the 1980s Saints didn't win a trophy. We have been spoilt as a club and I suppose we are victims of our success. The detractors see us as failures, but I don't think that is the case."
Wilkin, 28, has played under six coaches at Saints since he signed; Ian Millward, Daniel Anderson, Mick Potter, Royce Simmons, Mike Rush and Nathan Brown.
"I couldn't have had six different men in terms of their attitude to the game and how they deal with players," he continued. "Under Nathan, there is an energy towards us winning trophies and making sure each player gets better.
"I am learning every day and that is exciting me; Nathan has picked up on things that can improve my game and that's a massive positive.
"I never dreamt I'd be here for ten years and I will be really proud to lead the team out on Sunday. I am looking forward to sharing that moment with my family, friends and the people who will be at the game.
"Ultimately, I have made a small contribution to the club but the most beautiful thing is the timeline of the Saints. To cross that for the last 10 years is very special indeed.
"I signed because of the way Saints played the game and I feel part of the town. The place is full of character. I have played rugby all over the world and there is no place like St Helens.
"The people like to talk to you and are honest to the point of brutal! They will stop you in the street and tell you what they thinking. It gives the town a special identity."
Tickets for Sunday's match are now on sale and are priced at £20 adults and £10 concessions (Solarking South Stand allocated and unallocated), and £16/£8 for the Hattons Solicitors West Stand.
Family ticket prices are £50 for two adults and two kids (seating) and £40 for two adults and two kids (standing).
They are available from the Ticket Office at Langtree Park, by calling 01744 455 052 or by logging on to www.saintssuperstore.com