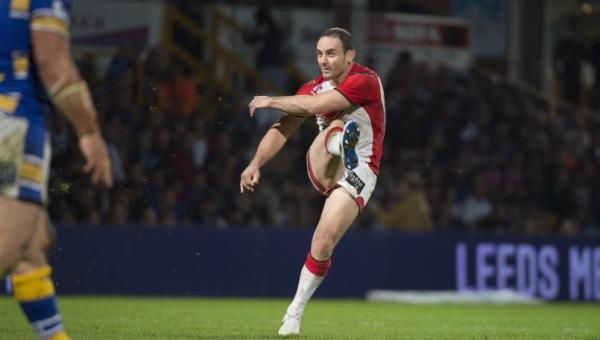 LANCE Hohaia made a welcome return from injury last Friday and is now hoping to pick up where he left off.
The half-back has undoubtedly had his best season in the Red V to date and that culminated in his telling contribution at Leeds.
And now he wants himself, and the team, to kick on.
"Our performance wasn't where it needed be in the first half but we played better in the second to finish the game strong," he said. "Thankfully, I came through the game well. I worked hard in rehab and I hope that showed on the field. In defence and attack I felt ok and there wasn't any reaction to the injury.
"I snapped two ligaments in the arch of my foot. I could have played against Wakefield but we felt it would be better to rest up another week. I trained with the team for two weeks and that helped me with my confidence.
"We all need to stay fit; we're in a position where we cannot afford any more injuries. I understand I am playing a key role so I want to play as well as I can and do a job for the team.
"I came into the year wanting to be consistent and I have persevered, worked hard, listened to the coaches and what they wanted and brought a little bit of my own stuff to my game. I'd like to think I have got the balance and going forward I'd like to keep at a high standard."
Lance slotted back into the stand-off role in a Saints attack restructured somewhat by the loss of Luke Walsh.
It's something he is comfortable with though, as he explained.
"It's nice to touch the ball more often and it suits the team the way we now play," he continued. "Jordan (Turner) is taking care of the middle, Wello is on the left and I'm on the right. I still feel we can do better and improve though.
"Until the end of the season we know we will have tough close matches against good teams. We wouldn't have it any other way. The chance to win the League Leaders Shield in front of our home fans is good too.
"We know people don't think we can do it, but within the group we truly believe we are good enough to win the title. We will push each other as hard as we can.
"It would be nice to tie up the Shield this Thursday, but it can't distract us from the main goal which is the Grand Final. Ideally, it would be good to win it and then we can focus on the big games in the home semi-finals.
"When we played Warrington last time they got stuck into us from the get go and rattled us. We have to be prepared for that to happen again. They are a good side with good forwards so we have to match fire with fire."
Tickets for the match remain on sale from the Ticket Office at Langtree Park, by calling 01744 455 052 or by logging on here.