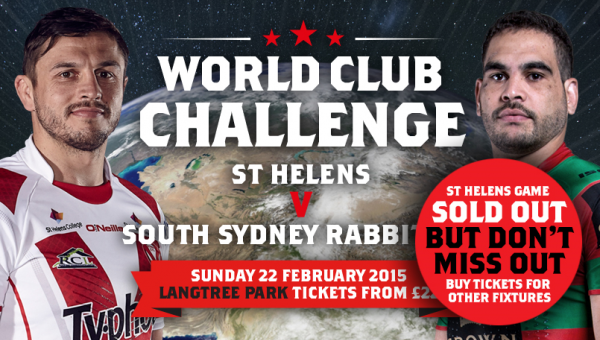 THE new home of St Helens, Langtree Park, has sold out its 18,000 capacity more than three weeks ahead of the finale to the inaugural expanded World Club Series, being the World Club Final between Super League Champions St Helens and NRL Champions South Sydney on 22 February.
Saints Chairman Eamonn McManus stated:
"It's no exaggeration to say that this World Club Final represents the biggest day in the proud history of both the Club and the Town of St Helens. Although we have won it twice, this the first time we've participated in it on our own turf.
"We aim to build a history at our new home of Langtree Park comparable with that of our 120 years at Knowsley Road. The evening of February 22 will be a historic one indeed in our new life.
"It's very clear also that the fans are enormously excited about the new concept of the World Club Series, where the cream of Super League clashes full on with the NRL. It's quite clear that this represents the ideal platform upon which to build a credible and successful international club game.
"It represents the expansion of the already established World Club Challenge template and can readily be developed into a competition of real international appeal and with consequent commercial value.
"It is certainly capable of garnering much needed global interest in our club game and must be supported at all levels to that end. It is the first, and very credible, step in what our game has been crying out for far too long.
"Let's all get behind it as it fully merits."