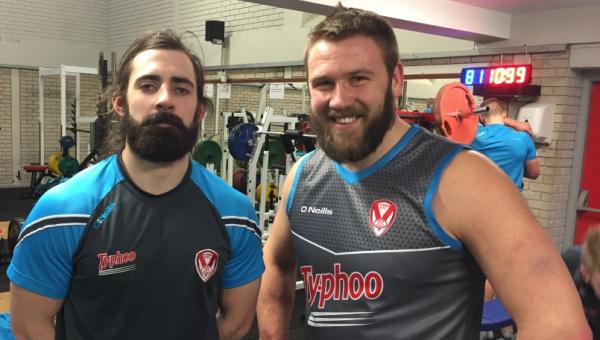 SAINTS are using their Reserve team not only to give players the opportunity to gain valuable game time against strong opposition but also to hand trials and chances to new recruits.
These players not only come from rugby league and union on these shores but also throughout the European federation.
Latvian Mikus Ozols (pictured right) has signed for the club on trial alongside Tommi Hughes (left) who played rugby union international sevens.
They join Tom Connick and Dave Llewellyn who have both agreed 12-month deals.
Reserve Team Head Coach Ian Talbot said: "The reserves are vital for us in making sure our top age academy players and those in the first team squad gain game time at the highest possible level.
"But it also enables us to try other avenues which may possibly unearth a gem.
"The four players who have signed will bolster the Reserves ranks and it is an opportunity for them either to stay in the game or show what they can do.
"Tom played for us at junior level and went on our Academy Tour of Australia in 2006. He has played for Coventry, Oxford and London Skolars and currently teaches at District Primary in St Helens. I was keen to get him on board we he offers us some direction and organisation.
"Dave Llewellyn played with me a Rochdale and he brings experience to help out the younger lads. He currently teaches at Cowley.
"Tommi played international 7s in rugby union and comes highly recommended.
"And Mikus is a dual international having played Rugby Union for his country before changing to Rugby League. He helped start his club Sigulda, which is on the outskirts of the capital city of Riga, and became player coach at the club.
"He is a strong running skilful player who gained full international honours in the current World Cup qualifying campaign against Spain in the lovely picturesque surroundings of RK Livonia in the village of Upesciems.
"Although it ended in defeat for the Latvian side, Mikus and the rest of the team played a major part in the profile of rugby league in Latvia reaching an all-time high."