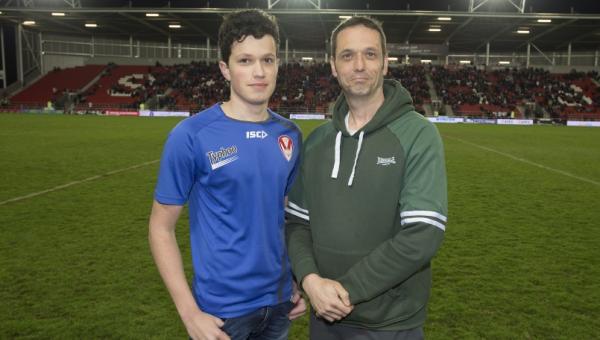 MEET John Hill – he was the lucky winner of an all-expenses paid trip to the State of Origin simply by being a Saints Member for 2016!
We launched the Grand Draw back in August and to be in with a chance of winning fans had to renew or buy a Membership for 2016.
So as well as receiving great benefits and saving on match entry, they could also win the trip of a lifetime for two to watch Game 3 of the 2016 State of Origin (July 13, 2016) series including flights, accommodation and tickets!
John was the lucky winner and has spent the last couple of months preparing for his big trip … and we'll hear from him as he blogs the build up to his 'tour' as well as when he is in Australia too.
"Since all my family are Saints supporters it was inevitable I would end up being an ardent supporter of the red vee," he said. "I have been following Saints for some 40 years now and have successfully passed on the bug to my two sons Matt and Chris.
"Working in town at NSG Pilkington Watson Street means a Saints conversation is never far away and Langtree can be viewed from the plant (look for the tall brick chimney behind the West stand).
"I started following Saints in the late seventies and took in my first Wembley final in 1978 with the agonising Noonan dropped ball incident. Following on I became even more hooked following on from my Dad taking me to going with mates from school. Still go with my mate Ian and both of us take our boys now.
"I attended Byrchall High in Ashton which was predominantly Wigan fans sprinkled with a Saints fans including my old school pal Bruce of Hatton's Solicitors. It was very much a soccer school but a few of us managed to introduce rugby into the games lessons. One of the better things I did at school.
"As for the trip, I'll be taking my eldest son Matthew who completes his GCSE's this summer and loves his rugby. He played for Thatto Heath Crusaders for most of his junior career. A great club for any new starter.
"To be going to Australia is a fantastic prize and the club have gone out of their way to ensure all will run smoothly with premium tickets for the third State of Origin game along with booking the flights and hotel in Darling Harbour. We aim to take in NRL games on the Friday and Saturday with again the club helping out here.
"Prior to this my only recollection of winning a prize was Moorby the goldfish (named after Gary our big money signing from Keighley at the time). I won him at the St Helens show when it was the greatest free show on Earth or least in the North West!"
You can follow John via Twitter on @RedveeJohn