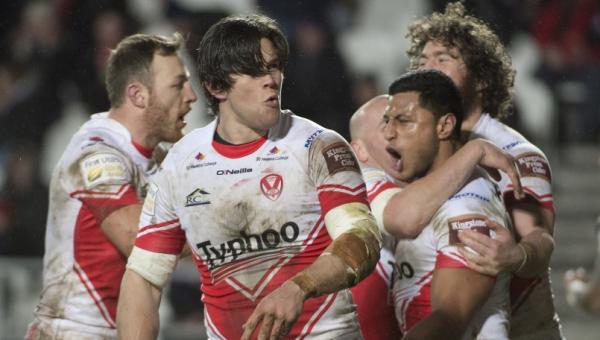 KEIRON Cunningham insists there is still everything to play for as he prepares his charges to face Hull KR this Friday.
Saints lie fifth in the First Utility Super League table, currently six points off fourth spot.
That makes the remainder of the 'regular season' vitally important if they want to stay in touch heading into the Super 8s.
"We aren't where we envisaged we would be at this point of the season, but considering the pressure the team has been under they have performed exceptionally well in certain periods of the last few games," he said. "When you look back at those games, against Hull we deserved a lot more and at Catalans we dominated for large periods but hit a ten minute block when they played exceptionally well and took it away from us.
"The boys are fighting hard for each other. Every game is a must win game; we will keep fighting and working hard."
Saints will head into Friday's match without Theo Fages, who was injured over in Perpignan, and are unlikely to welcome back Luke Walsh .
"Theo isn't good; he has a knee injury," KC added. "We still have some tests to do but he won't be back in the distant future. It's hard for him, he is a warrior who gives you everything every week. When he is injured he normally heals quickly though so hopefully we will get him back soon enough.
"It is part of sport and we carry on. Luke Walsh isn't far off and when he does return he will come in and help the situation. He has to pass certain criteria first though.
"You're always tempted to bring someone in to help the situation but you have to be smart. If we do bring someone in it will be the right person and they will be here for a long period of time. So it is important we are smart.
"Everything is evaluated and assessed. The club isn't where it should be so there will be some changes for next year. The extent of that will be decided in the next few weeks. We are in the market for lots of players, but you have to do that as it isn't guaranteed you will get these players. You need a Plan A right through to Z.
"When they fall and land for us though, they have to be right for the club.
"At times like this you see the genuine leadership in the squad or lack of it. We will take a different avenue for next year and things will be different.
"That said, we are still optimistic for this season. There is everything to play for. We have been written off – but we don't do that here. We just need some consistency in what we do. We put 70 or so minutes together against Catalan but couldn't ride the storm in that short second half period.
"We had lots of opportunities we didn't take and that is our downfall at the moment. We have to get the basics right and get our best players back on the field.
"Every game is important. The last few games could have been different for us but we are where we are. There is belief in this group and we are working towards the same goal."
Tickets for Friday's game are on sale from the Ticket Office at Langtree Park, by calling 01744 455 052 or online here.
Members can bring a friend for £5 – check out that offer here.