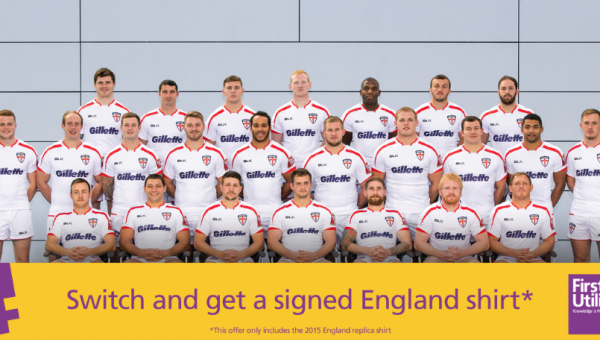 LAST year was a great year for England RFL as they secured a huge win over the number one test ranked team, when New Zealand visited in November for a three-test series.
Having played at the KC Stadium and then the London Olympic Stadium the series was tied at 1-1 going into the last test at the DW Stadium. England battled to the win and took the series win and the Baskerville Shield.
The RFL and First Utility have teamed up to be able to offer you a replica shirt from that 2015 test series, which will also be signed by one of 2015 England Squad*.
As well as owning a piece of signed England memorabilia, customers who switch to First Utility will also save an average of £334** on their energy bills, which can go a long way to paying for next year's season ticket.
To take advantage of this offer, click here and get a quote to see how much you could save.
Once you've switched to First Utility and passed your cooling off period, you'll be sent an email for you to order your shirt***
*Signed shirts will be randomly selected and you cannot choose which player signature you receive.
**Customers who registered at first-utility.com to one of our 1, 2, or 3 year fixed term and everyday tariffs between 01 January 2016 and 31 March 2016 saved an average of £334 per year.
***Terms and conditions apply