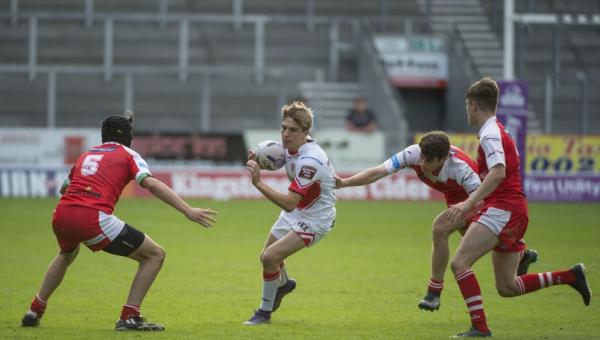 THE Saints U16s scholarship side returned from their mid-season break to resume activities but were beaten for the second time this season by a Widnes side which grew into the game as it went on, writes Graham Henthorne.
In truth it was probably the break which did for the U16s as they looked like a side which hadn't played together for a period of time whilst their opponents looked sharper.
Widnes coming through the test with a 28-14 win.
Despite the above it was the Saints who took the lead on ten minutes as Sean Croston finished off a handling move by going over down the right.
Ben Sims spurned the chance to go further ahead as he took a delightful pass from Ryan Horne to burst through the line. Unfortunately he then seemed to run at the full back instead of either side of him and the try went begging.
It was Dave Griffiths who finally increased the lead as he dummied his way over after good work from Luke Ward and Christian Kellett.
The Saints' had been riding their luck a little already and from the restart some poor tackling allowed the visitors to score on the overlap on the right.
Jake Sculthorpe restored the Saints lead scoring with his first touch taking a Louis Brogan pass to go over.
On the stroke of half time the Vikings pegged the scores back again taking advantage of some poor tackling to go over.
Coach Ian Lomax had been critical of his side's efforts in the first half and asked for a response. He got it but only for a few minutes.
The tackling improved but the game turned on a gilt edged opportunity to Brogan. He broke through down the left but with support screaming up on his outside he chose to try to beat the full back on his own and the chance was gone.
Two minutes later the Vikings took the lead and never really looked back.
Pick of the bunch were Ryan Horne, Brandon O'Neill and Joe Sharratt who all tried hard and there was an encouraging debut, including some big hits, from Matthew Foster.
St Helens U16s:
Tries: Sean Croston (10), Dave Griffiths(22), Jake Sculthorpe (29).
Goals: Dave Griffiths 1/3
Widnes U16s:
Tries: Jake Bradley (26), Joe Edge (33), Jayden Hatton (40), Ben Davies (51), Lee Dyas (63).
Goals: Joe Edge 4/5
Half Time: 14-10
Full Time: 14-28
Teams:
Saints:
1. Dave Griffiths; 2. Tom Nesbitt, 3. Luke Maloney-Ward, 4. Sean Croston, 5. Jake Pass; 6. Ryan Horne, 7. Lewis Gartland; 8. Sam Royle, 9. Brandon O'Neill, 10. Matthew Ashcroft, 11. Ben Sims, 12. Joe Sharratt, 13. Reece Jackson.
Subs: 14. Paul Nash, 15. Matthew Foster, 16. Jake Sculthorpe, 17. Christian Kellett, 18. Louis Brogan, 19. Jack Welsby, 20. Jamie Little.
Widnes:
1. Joe Edge; 2. Jarrod O'Connor, 4. Tyler Jones, 3. Jayden Hatton, 5. Oliver Brookes; 6. Ben Davies, 7. Lewis Else; 8. Luke Draper, 9. Jake Burns, 10. Lee Dyas, 11. Jake Bradley, 12. Josh Wilde, 13. Callum O'Neill.
Subs: 14. Liam Barnes, 15. Bradley Calland, 16. Declan Mercer, 17. Sam Walters.