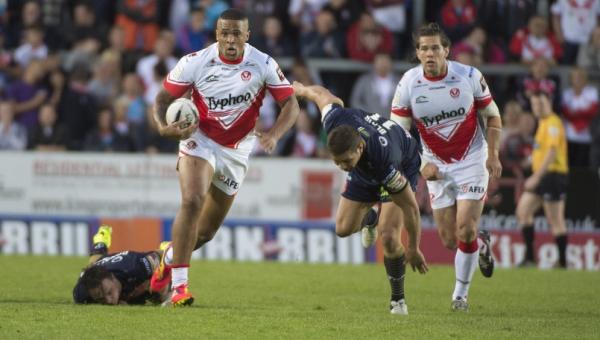 JORDAN Turner knows how important Sunday's game is.
Saints lie just outside the top four and travel to the Wildcats in a vitally important match.
"We need to win every game but I think everyone in the League is in a similar position too," he said. "No one can afford to lose points including those at the top. This game is important for us.
"Everyone had written Wakefield off at the beginning of the year but their new coach has given them a new lease of life. They are playing a different brand of rugby and that has brought them to life. They have some good players there and it was a case of getting them in the right structures to move forward.
"Jacob Miller was released by Hull – he has a new lease of life at Wakefield and has shown this year he has been vitally important for them.
"Tom Johnstone is probably the fastest player I have ever seen and he has a good skillset too.
"Max Jowitt at full back is playing some good stuff as well."
Depending on the status of Luke Walsh, Turner could well be in the halves once more with Jon Wilkin – or partner the Australian.
It's a role he is comfortable with.
"I like playing in the halves and having my hands on the ball more," he added. "I enjoy organising and talking on the pitch. It suits my game. I know some people will have ideas at where I should play but throughout my career my utility status has put me in good stead. I'll play anywhere the coach asks me to.
"When I was left out it gave me incentive to get back. No player likes to be dropped. I took it on the chin and probably deserved it. I started the year ok then dipped in form and agreed with the coach that he wasn't seeing the best of me. It has given me a kick up the backside.
"I'm enjoying playing rugby and I like to play with a smile on my face. The last couple of weeks I have felt that.
"It's hard to play an expansive game when you're on the back foot. We had gone away from playing rugby perhaps. You could see in that second half (against Hull KR) we enjoyed it, we had smiles on our faces and I think the fans enjoyed it too."