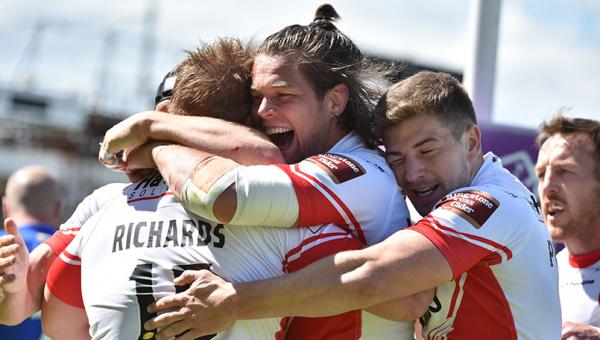 SAINTS ran in eight tries to defeat Wakefield Wildcats 44-32 in an entertaining game at Belle Vue.
Jonny Lomax grabbed a brace whilst Greg Richards crossed for his first in the red vee as Keiron Cunningham's men closed the gap on the Super League's top four.
Kyle Amor was impressive off the bench, putting Morgan Knowles and Matty Fleming away in the second half, whilst Jordan Turner and Jon Wilkin ran things at half back.
It was "you score, we score" for the majority of the game, but Saints showed enough class to come away with the points.
That "tit for tat" began from the off as Jacob Miller scored after Wakefield dominated the early stages.
They won two penalties and forced a drop out before the stand off came back on the inside following great runs from Jason Walton and David Fifita.
But Saints hit back when a strong run from Richards created the space for Jonny Lomax to slip Mark Percival in for his sixth of the season.
Adam Swift produced a wonder tackle to stop a certain Ben Jones-Bishop try after a period of pressure from the hosts and then some wonderful handling saw Greg Richards power over for his first for the club.
Wilkin providing a sublime pass for the prop to do the rest.
Saints had their tails up and on 22 minutes forced a drop out – and won a repeat set – to pile on the pressure.
But they couldn't take advantage.
It was therefore inevitable that Wakefield would score next and they did just that, moving the ball left for the lightning Tom Johnstone to fly over.
Saints didn't hang around at replying though. From the restart they forced an error and within seconds Jonny Lomax was attacking the line at a great angle.
The hard yards done beforehand by Amor and Louie McCarthy-Scarsbrook.
And on their next attack, Amor produced a lovely offload for Roby to free Jordan Turner.
He duly scampered to the 30 metre line before putting in Lomax for his second.
Saints were more than deserving of their 12-point lead but on the last play of the half, Wakefield pulled right back into it.
Reece Lynne made a half break from the right hand side before Jacob Miller chipped it on.
Saints looked to have the ball covered though but it squirmed out and the half back collected for his second.
Within five minutes of the second half though the visitors restored their 12-point advantage.
Wilkin broke free of two would be tacklers and sent Amor down the middle.
The prop bided his time, took a swinging arm across the face, and then put Knowles away for his second of the season.
Mark Percival adding his fourth conversion of the afternoon.
Wakefield weren't going away though and on 55 minutes Miller crossed for his hat-trick as he latched on to a loose Saints' pass.
But three minutes later Saints pegged the Wildcats back again as James Roby produced a superb run to plunge over.
Saints needed to halt this "we score you score" phase of the second half but their hosts had other ideas.
On the hour mark, the visitors were pinged twice by the referee and Liam Finn took full advantage.
The half back flying over on a great angle.
And the comeback was complete when Ben Jones-Bishop somehow got the ball down in the corner.
Crucially Finn missed the tricky conversion off the touchline.
Saints weathered the pressure and then pulled away again – Jordan Turner scoring after linking up with Greg Richards.
Wakefield gave it all they had in the final stages but Saints killed off the game with a try right out of the top drawer.
Roby broke from within his own 20, set Knowles away who then fed Amor in the centres.
The big marra then took on Jones-Bishop and offloaded, Matt Gidley style, into the hands of Fleming who made no mistake.
A fine try to finish a fine game.
Match Summary:
Wildcats:
Tries: Miller (3), Johnstone, Finn, Jones-Bishop
Goals: Finn (4 from 6)

Saints:
Tries: Percival, Richards, Lomax (2), Knowles, Roby, Turner, Fleming
Goals: Percival (6 from 8)

Penalties:
Wildcats: 9
Saints: 4

HT: 22-16
FT: 44-32
REF: J Cobb
ATT: 4,859
Teams:
Wakefield:
21. Max Jowitt; 1. Ben Jones-Bishop, 14. Reece Lyne, 3. Bill Tupou, 2. Tom Johnstone; 6. Jacob Miller, 7. Liam Finn; 35. David Fifita, 9. Scott Moore, 10. Anthony England, 17. Matty Ashurst, 31. Jason Walton, 20. Mikey Sio.
Subs: 16. Tinirau Arona, 18. Joe Arundel, 26. Chris Annakin, 27. Anthony Walker.

Saints:
1. Jonny Lomax; 23. Shannon McDonnell, 24. Matty Fleming, 4. Mark Percival, 5. Adam Swift; 3. Jordan Turner, 12. Jon Wilkin; 8. Alex Walmsley, 9. James Roby, 15. Greg Richards, 18. Dominique Peyroux, 20. Joe Greenwood, 13. Louie McCarthy-Scarsbrook.
Subs: 10. Kyle Amor, 11. Atelea Vea, 17. Luke Thompson, 28. Morgan Knowles.