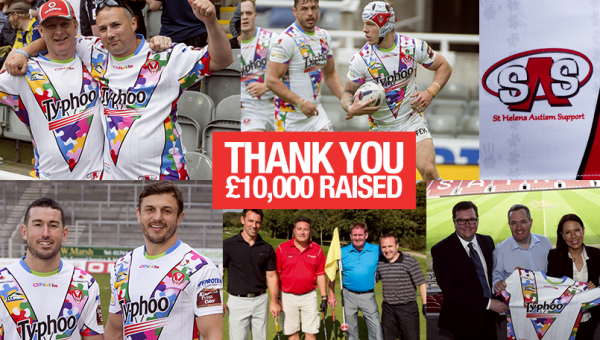 SAINTS are delighted to announce that they will donate £10,000 to St Helens Autism Support – thanks to the fans and businesses that got behind the fantastic special edition Autism shirt.
The figure was reached through the sales of the Autism Awareness shirt that Saints wore at the Magic Weekend, the auction of the players' shirts, a golf day and other donations.
Response to the shirt has been phenomenal with people from all over the sporting and entertainment world backing the cause.
It was also praised in Parliament too via an Early Day Motion, whilst Debbie Abrahams MP, Marie Rimmer MP and Conor McGinn MP lent their support.
Tom Jackson from St Helens Autism Support said: "Our charity was created with the twin aims of raising awareness of autism and providing funds for projects within the Borough to support local, impacted people.
"Thanks to the supporters, players and staff of St. Helens Rugby League Club, we have progressed on both of these aims.
"There is nothing not to like about this ground-breaking initiative and everyone involved, especially the rugby league public, should feel justly proud of their involvement.
"The project has been far reaching; schoolchildren to parliamentarians have all played a part.
"On behalf of St. Helens Autism Support, the Trustees would like to wholeheartedly thank all of those who have put their hands up to support autism awareness through this campaign."
Dave Hutchinson, General Manager at Saints added: "St.Helens R.F.C. were delighted to help with raising awareness of autism and in particular to personally assist with the fundraising for St Helens Autism Support.
"Fans, staff and players all got behind a social media campaign to help drive the specifically designed jersey to help raise money for the SaS.
"We had celebs from the NRL, Premier League football, world of music and acting all throw their weight behind it. We estimated that well in excess of 11 million people were exposed to the shirt.
"We also had some fantastic messages from people all over the country, thanking us for getting involved and even attracted a family of Leicester City fans who came up to buy shirts and watch a game.
"The club will continue to support SaS and thank everyone for getting involved to help make a difference.
"A massive thank you to all the fans who made this donation possible."