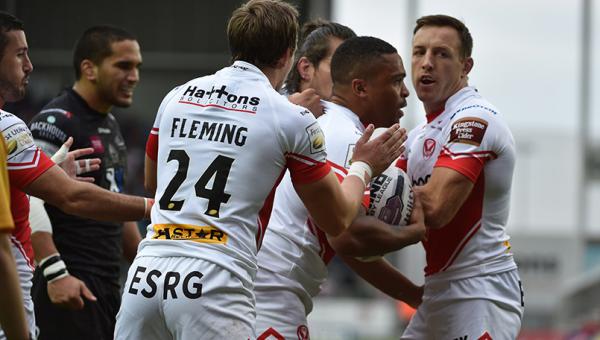 KEIRON Cunningham described Friday night's win over Widnes as "character building" as they head into the business end of the season.
Mark Percival tagged a late penalty to hand Saints a 12-10 victory at Langtree Park.
"I thought both sides deserved something out of it," he said. "Widnes probably shaded the second half and we probably took a large portion of the first. We had lot of opportunities to take the game in that half but didn't execute well enough.
"But the pleasing thing is to hang on in a game, that was a good standard, for a long period and win with a goal – then defend that lead. It is character building for my side going into the right part of the season. I'm pleased with the result; it's about time I got a little bit of luck!
"Widnes were good across the park. Lloyd White had a great game and then you have Kevin (Brown), Joe Mellor and (Rhys) Hanbury off the back of that – they are a formidable four to defend against. For large portions of the second half we defended on the back foot. But we did that well to take the win.
"Winning becomes a habit and it is good to be involved in games like this, and like last week at Wakefield, where we have to fight hard. Regardless of the scoreline, that mentality to fight and control a lead was good.
"It wasn't a pretty game for us, we weren't fluent and it could have been different at half time if we had executed better. Getting through games by the skin of our teeth, showing that fight, will and want can take you a long way and the boys should be proud of their efforts."
He continued: "When you look at our side today and the number of homegrown kids in the side, as a St Helens lad and coach it is great for me to see all those kids out there at once. A lot have come through the system and for them to do a job at such a high level is pleasing for me. They have good futures ahead of them.
"One of them, Jonny Lomax, was great. He is probably at week nine now in his comeback and we always said it would be the 10 week mark when he would hit his straps.
"Every bit of his game is where he should be at. There were times today when he wasn't quite clinical enough but you can't get them all right.
"He got the defensive side of his game done and his numbers right."