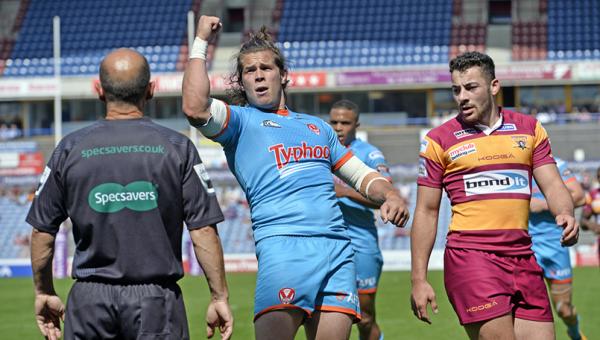 KEIRON Cunningham says Saints are beginning to reap the rewards of their belief and hard work over recent weeks.
His charges recorded their fourth win in a row on Sunday by beating Huddersfield 34-18 – a result that puts them level on points with Catalan in fourth.
"I'm elated with the result," he said. "I'm proud of where the group are at and how hard they are working for each other. In rugby league you generally get what you deserve and I think over the last four games we have got that.
"The effort has always been there but sometimes losing creates bad habits. Losing is a habit, as is winning, and whilst the effort is similar (from previous games) the boys have belief in it. It was a really professional performance.
"We targeted the top four from day one and it looked like it had almost got away. But we kept the belief as you should at a club like St Helens. It has been Grand Final style preparation for each game as we know they are important.
"Catalans have dropped points to give us a chance of it but we know we are still reliant on other teams. All we can do is take care of what we can. We will prepare the best we can for Friday and do what we can do at Wigan."
Saints welcomed back Luke Walsh in the match and his partnership with Jordan Turner was a crucial part of the win.
"He slotted in well," Cunningham added: "The triangle of him, Jon Wilkin and Turner worked exceptionally well for us. They kicked the ball at the right times and did the right things.
"We looked threatening with the ball in hand although we did miss a few at the back end of the game."
The win took Saints' regular season total to 13 and Keiron is pleased the players are starting to pick up some plaudits.
"Ultimately it is a results based industry, regardless of what I saw as a coach, but I am always a glass half full type of person.
"No matter what team takes the field I always believe we will win. That's what we do at Saints. I always knew where we were heading and the direction we have to go in.
"The boys have worked hard and deserve the plaudits."
Saints will end their regular season campaign at Wigan this coming Friday.
Tickets are on sale from the Ticket Office at Langtree Park, by calling 01744 455 052 or by logging on here.