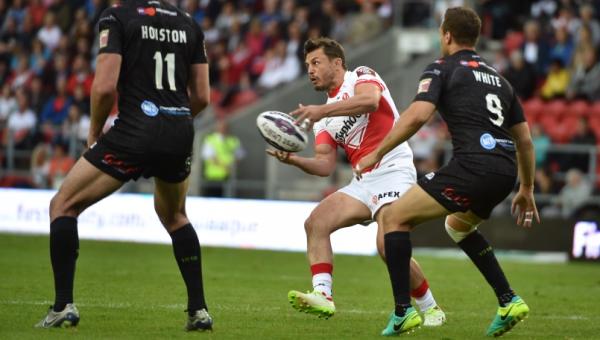 "TOGETHER, Working Hard and Being United" are all non-negotiable traits if you want to be successful in a derby according to Saints' Captain Jon Wilkin.
And he should know, he's played in a few…
Saints – Wigan games are often tight, close fought encounters settled in the final moments by a bit of quality.
"Physically you have to be right on it," Wilkin said. "You cannot turn up with a soft mentality in these games. The emotional side of the game is huge and you cannot deny that rush of emotion and aggression this fixture brings when you walk out on to the field.
"Having the physical mindset right is non-negotiable for a derby.
"But it is also important to have some quality and be smart with it. Standing in single file and trying to run through the middle of Wigan isn't going to work for us.
"We know we can tidy things up. When we work together in defence we are good. When we try and solve things on our own we are bad. When you face Wigan you are chomping at the bit and it is easy to try to do things on your own.
"But if you work together, stick together and be united then you have a good chance of getting the result.
"It is always loud in games like this. Communicating well is a challenge and the team that does that best, executes well and brings the right physical attitude will win the game."
Saints head into the Warriors' clash in good shape and in decent form.
They have won their last four games to draw level on points with Catalans.
Jon continued: "We wanted to gather some momentum heading into this period of the season and the last month has been really great for us. We have got some wins and confidence and with Luke Walsh in the team on Sunday we wanted to keep that going.
"We defended well and were clinical with the ball.
"It has given our confidence a boost heading into the Wigan game but also the Super 8s which we are really motivated to play a big part in.
"There were two momentum swings in the game – when Adam Swift went the full length of the field and the try from Alex Walmsley. We had defended a lot of sets, absorbed the pressure and hit back. That has always been a feature of the Saints since I have been at the club.
"It is something we have always been able to do and perhaps we have missed it a little this year."
Tickets for Friday's derby remain on sale from the Ticket Office at Langtree Park, by calling 01744 455 052 or online here.
They go offsale at 10am on Friday.