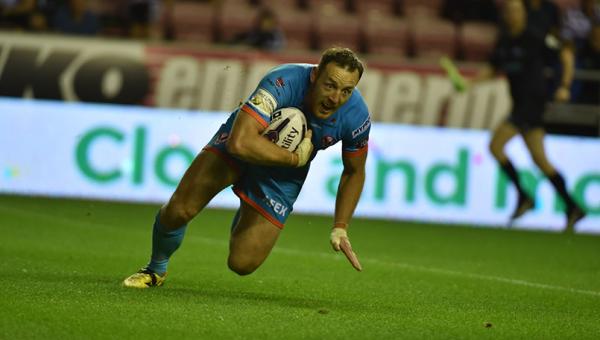 KEIRON Cunningham enjoyed Saints' win over Wigan last night and said it shows his side's self-belief is continuing to grow.
"It was a cracking derby," he said after the game, "there was pushing into billboards included as well! Seriously, these are always good games aren't they? I am pleased for the players, they stood up to everything they had to offer. Everything they threw at us we defended, apart from the kick play. We probably could be still playing now and they might not have scored. That is what self-belief brings after we have been through a tough period.
"When you go through tough spots and you start to get wins, they bring relief and that slowly turns into self-belief. Look at the way we defended to victory at Wakefield and then did the same at Widnes and last week at Huddersfield too. We needed to bring that tonight and we did. Every week is better for us and we are heading in the right direction – and that is how big games are won.
"Wigan are a great attacking side and they were fully stacked tonight. Sam Tomkins and Sean O'Loughlin were back, they had lots of threat out the back too and George Williams is a running threat every time he has the ball.
"We stuck to the sheet and there were lots of things we did well. But we weren't great with the ball and didn't complete well enough at times. But were playing against a good side and you don't get too much time on the ball. We will take it any way it comes and I am pleased we kept them to one try.
"We really stood up to them and that is what self-belief does for you. Wigan are a tough side and Frank-Paul has added venom, but we are big tough side too. We are a close, tight knit group and sometimes you have to experience the tough times to enjoy the good ones. It forges something in the group when you go through those times.
"We won't fall in love with ourselves though. We have won a few games and given ourselves a good shot at the top four, but there are a few more to have a crack at."
He continued: "The young lads were brilliant. Man to a man our 17 were outstanding. Joe Greenwood was outstanding as was Jordan Turner. He has been through some tough spots with his form this season but he is hitting his straps now.
"Jack Owens too. If you look at the stats he tops a lot of them. We haven't got a big carry two like other teams so his work-rate helps us out. He is in the upper teens for carries and does more than 100 metres every week.
"You need set starters and he does that. When you aren't going well those younger players get exposed and Jack was guilty of that. I took him out to save him from the pressure of outside influences.
"Since he has come back, and the side is going well, he hasn't been as exposed. He was outstanding last week and tonight has proven he is a good Super League winger."