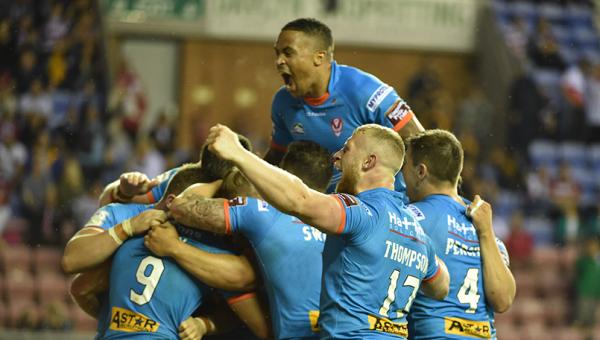 SAINTS produced a superb performance to beat auld enemy at the DW Stadium on Friday.
Mark Percival bagged a try and landed five goals in the blistering 23-4 win that was built on tenacious and swamping defence.
Heroes abounded with Keiron Cunningham paying particular attention to James Roby, Joe Greenwood and Jack Owens' efforts in the red vee.
But this was a team effort, from 1-17; a performance that was united, ruthless and honest.
They led 16-4 at the break and kept the Warriors scoreless in the second before Luke Walsh dropped a one pointer.
Roby then finished off the hosts at the death with a try right out off the top drawer.
This was a feisty and committed derby that Saints got the best of in the opening stages.
Mark Percival slotted over a penalty on five minutes after Matty Fleming was felled high by Sam Tomkins following a free flowing move.
Saints weathered two sets on their own line but after they were forced to drop out on 11 minutes, Lewis Tierney collected a kick along the ground in the corner.
Matty Smith missing the conversion.
Undeterred by the blow, the visitors continued to press and ask questions of the defence.
They were also forcing errors from the Warriors too who were surprisingly struggling to deal with the conditions and Saints aggressive defence.
Both sides exchanged drop outs on the 20 minute mark but once Jordan Turner was unceremoniously upended in front of the sticks, Mark Percival levelled the game up with the resultant penalty.
Two penalties for the home side followed but Saints produced two superb defensive sets to quell the danger.
Turning defence into attack has been a feat of Saints' four game run and on the half hour mark, when Wigan lost the ball, they did it again.
A penalty drove them further into Warriors' territory and following a couple of strong runs, Lomax hit Percival on a beautiful line to put them ahead.
And shortly afterwards, it got better. 
Another penalty gave Saints great field position and on the last Turner slid a kick through, Tomkins made a hash of it and Morgan Knowles was there to pounce on the loose ball.
Percival making it 16-4 at half time.
Saints spent most of the opening stages of the second half on the back foot as the Warriors came out with a rocket.
Three times they were pegged back on their own line within the opening five minutes and then two penalties in a row had them scrambling once again.
Sam Tomkins was denied by the video referee on 48 minutes – the full back failing to ground the ball – and then Saints weathered another two sets before their hosts popped up with an error.
It was a monumental effort.
On 57 minutes, Tomkins knocked on a high kick from Walsh and Saints resultantly peppered the line.
Lomax went close but the last tackle option saw the ball go dead.
Saints got the ball back from another Warriors error shortly afterwards and then Alex Walmsley chased down Tomkins following Wilkin's kick, for a drop out.
Cunningham's men couldn't force the issue though and they lad to rely on the defence once more.
Entering the final 15 minutes, Matty Fleming spied a gap and chipped through on the far side – Tomkins defending it well – before Saints had to once again defend a number of sets on their own line.
And, like before, they did the business – the superb Owens producing a wonder tackle on Tierney to bundle him into touch in the far corner.
Saints then killed off the game.
Solid drives up the middle got them to within 35 metres and cool hand Luke Walsh popped over a one pointer.
Wigan won the ball back from the restart but nothing was going to spoil Saints night.
FPN took exception to LMS in the final stages – resulting in an all in brawl – and both saw yellow for their troubles.
The away fans, who were superb throughout, sang louder and Saints responded with an equally superb try.
Led by Walsh, it went through several pairs of hands before James Roby scooted under the sticks.
The players piled in to celebrate, the fans did the same, and the derby was won.
Match Summary:
Warriors:
Tries: Tierney
Goals: Smith (0 from 1)

Saints:
Tries: Percival, Knowles, Roby
Goals: Percival (5 from 5)
Drop: Walsh

Penalties:
Warriors: 10
Saints: 7

HT: 16-4
FT: 23-4
REF: P Bentham
ATT: 20,049
Teams:
Warriors:
1. Sam Tomkins; 22. Lewis Tierney, 4. Dan Sarginson, 20. Oliver Gildart, 5. Dominic Manfredi; 6. George Williams, 7. Matty Smith; 21. Ryan Sutton, 16. Sam Powell, 10. Ben Flower, 25. Willie Isa, 14. John Bateman, 13. Sean O'Loughlin.
Subs: 8. Dominic Crosby, 17. Lee Mossop, 24. Frank-Paul Nuuausala, 28. Jake Shorrocks. 

Saints:
1. Jonny Lomax; 22. Jack Owens, 24. Matty Fleming, 4. Mark Percival, 5. Adam Swift; 3. Jordan Turner, 7. Luke Walsh; 8. Alex Walmsley, 9. James Roby, 15. Greg Richards, 13. Louie McCarthy-Scarsbrook, 20. Joe Greenwood, 12. Jon Wilkin.
Subs: 10. Kyle Amor, 11. Atelea Vea, 17. Luke Thompson, 28. Morgan Knowles.