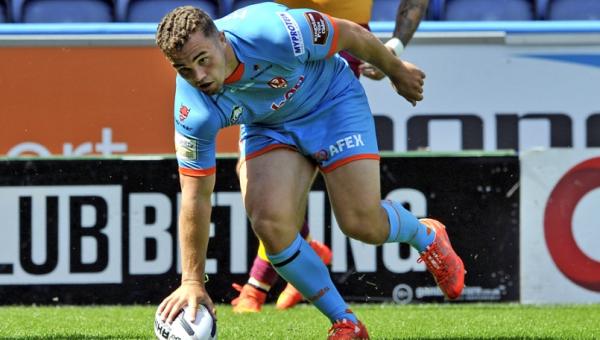 SAINTS' turnaround in form is all down to some 'home truths' according to Jack Owens.
The winger said the side had sat down and addressed what had gone wrong in their mid-season dip, and are starting to reap the rewards as a result.
And, a spell out of the side has also been beneficial for his own performances too.
"As a team, before the Hull KR game, we set ourselves the goal of making each week a Grand Final," he said. "We wanted to focus on each game and have done that. We have won the last five games and now the focus is on the Super 8s.
"We had a tough period following the loss at Magic and faced Hull, Catalans and Warrington on the bounce. We were disappointed not to get a result in those games; the effort was there but we weren't clinical enough. Now we have got that and are starting to hold teams out as well. Defensively, the confidence is there and we trust each other.
"After that loss to Huddersfield at Magic we spoke about our effort because it wasn't there and right. Since, we haven't had to mention it once."
Saints continued their form transformation when they beat Wigan 23-4 on Friday.
One of the highlights of that win Owen's dramatic tackle on Lewis Tierney.
With around 10 minutes remaining, the Warriors' winger was nailed on heading into the corner – but was bundled into touch with defence that epitomised not only Saints performance, but the recent form of the former Widnes Viking.
"That's my job; I get paid on that wing to take carries, catch the ball and make defensive reads like that," he continued. "I might only make two or three tackles a game but when they come they have to be clinical and on point.
"I went in 100 per cent and Jonny and Matty Flem backed me up.
"After the first game of the season I felt confident. That confidence was still there but slowly I started making some stupid mistakes.
"Keiron (Cunningham) had to take me out of the firing line and I said to him that I couldn't blame him; I was expecting it.
"I wasn't there and the fans had a right to tell me. I found it quite funny when they were singing songs to me but they had a right to. I am grateful to them for continuing to turn up and support us and against Wigan that was the best support of the season.
"They showed up when the team wasn't going well and now we are showing what we are capable of we want them to keep turning up as they have done all year.
"We have to continue turning up for each other, taking it game by game through the Super 8s and hopefully into the semi-finals."
Tickets for the Super 8s are now on sale from the Ticket Office at Langtree Park, by calling 01744 455 052 or by logging on here.