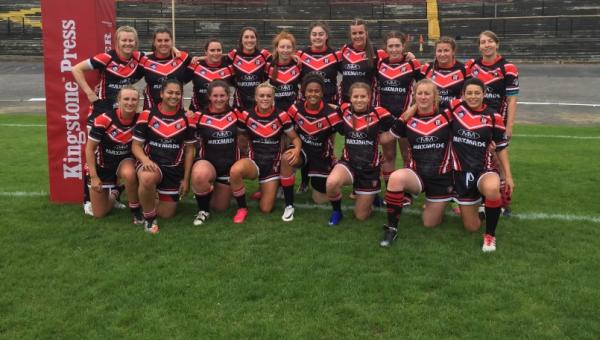 CONGRATS to Thatto Heath Ladies and their Reserve team on their double cup success this weekend!
On Sunday a coach filled with the Thatto Heath Ladies first team, the Challenge Cup defending Champions, and their reserve team travelled to the Odsal Stadium, home to the Bradford Bulls, to play in a double header final for the Woman's Challenge Cup and Shield final, writes Laura Birchall.
The first game kicked off at 1pm as the Thatto Heath Ladies Reserves played against the Whitley Bay Barbarians for the Women's Challenge Cup Shield.
The captain for Thatto Heath was Naomi Williams.
After Danni Bound's break down the middle it was Lydia Binstead who got the first try of the afternoon.
Further tries in the first half came from Jade Ward and Rebecca Rotheram, who scored two, whilst Taleah Backo added a conversion to make the half time score 18-0.
The second half proved testing for Thatto Heath as their defence was questioned by Whitley Bay. However Thatto Heath managed to find some gaps in the Barbarians' defence, with Danni Bounds scoring a hat trick!
Further tries came from Naomi Williams and Alisha Lea, with Backo converting a three tries. The most valuable player was awarded to Kath Organ for her outstanding performance during the game. The final score ended 44-0 to the Thatto Heath Reserve team; the Challenge Cup Shield Champions 2016.
The second game kicked off at 3pm between the defending champions Thatto Heath Ladies and the Leigh Miners Ladies. The scoring was opened by Roxy Mura which was converted successfully by Tara Stanley.
Superb defence and attack was shown by both sides and the half time score ended 32 – 6 with further tries coming from Captain Jenny Welsby, Tara Stanley, Jodie Cunningham and Sammie Simpson with three successful conversions also from Tara Stanley.
The second half was opened by two excellent tries from Emily Rudge. This set the tone for the rest of the match with Thatto Heath Ladies scoring four more tries in the form of Sammie Smith, Jodie Cunningham and further two more from Tara Stanley, making that four tries for her by the end of the match.
Tara also converted three more tries, making her the more than deserved winner of the match's most valuable player. The final score was 62-6 to Thatto Heath Ladies; Challenge Cup Champions for the second year on the run.
A huge congratulations to both of the Thatto Heath Ladies teams.
Challenge Shield Details:
Whitley Bay Barbarians:
Shannon Johnson; Jo Brown, Neesha Wood, Jo Hulme, Amie Walker; Sam Hulme, Ellie Taylor; Sarah Harthorne, Zoe Brooks, Jodie Dixon, Matilda Butler, Ceri Storer, Lauren Roberts.
Subs: Amy Lakey, Kirsten Lightheart, Emily Howard, Sam Castledina.

Thatto Heath St Helens Reserves:
Taleah Backo; Rebecca Rotheram, Charlotte Hill, Alisha Lea, Wendy Johnston; Carys Marsh, Millie Cadman; Chloe Richardson, Pip Birchall, Jade Ward, Olivia Miah, Danni Bound, Naomi Williams. 
Subs: Emma Dobson, Lydia Binstead, Casey Naylor, Kath Organ.
Tries: Lydia Binstead, Rebecca Rotheram (2), Jade Ward, Danni Bound (3), Naomi Williams, Alisha Lea.
Goals: Taleah Backo (4).
Player of the Match: Kath Organ
Challenge Cup Details:
Leigh Miners Rangers:
Rhianne Boag; Naiomh Gill-Ward, Georgia Sutherland, Sarina Tamou, Grace Morley; Emily Mullen, Keli Morris; Megan Eastwood, Rachel Ogden, Nicolette Postlewaite, Celia Farrimond, Laura Bent, Mairead Quinn.
Subs: Emma Beaton, Chloe Jolley, Devon Rigby, Clare Thompson, Kerrie Hatton, Rebecca Wilkinson.
Tries: Georgia Sutherland
Conversions: Emily Mullen
Thatto Heath St Helens:
Jodie Cunningham; Tara Stanley, Katie-May Williams, Rachel Thompson, Sammie Simpson; Jenny Welsby, Faye Gaskin; Lizzie Gladman, Tara Jones, Chloe Hammond, Roxy Mura, Chantelle Crowl, Emily Rudge.
Subs: Dawn Taylor, Rebecca Rotheram, Jade Ward, Kath Organ, Millie Cadman, Naomi Williams.
Tries: Roxy Mura, Tara Stanley (4), Jenny Welsby, Jodie Cunningham (2), Sammie Simpson (2), Emily Rudge (2)
Goals: Tara Stanley (7)
Player of the Match: Tara Stanley