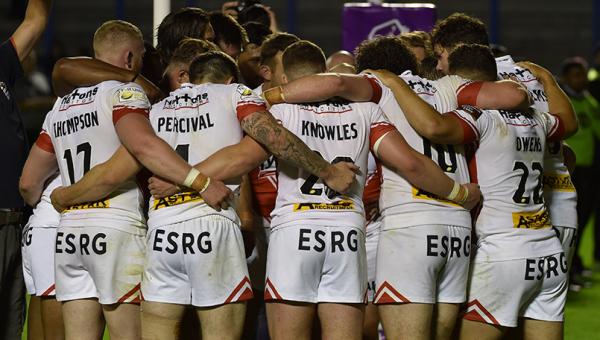 KEIRON Cunningham praised his side's brave performance as they downed Warrington 20-18 at the Halliwell Jones Stadium.
It was Saints' sixth win on the run and takes them four points clear of Catalans – albeit having played a game more.
"I thought we were brave," he said. "There were a lot of things where we wavered a little bit in terms of our direction and the way we kicked the ball, but in those big games you have to find a way to win.
"Credit to the players they were immense again defensively.
"We started the game with zero ball and were camped on our own line for seven minutes. That was a common theme throughout the game because we gave over some soft possession. Perhaps because we are a good defensive team we wanted to keep challenging ourselves. I am really proud of them tonight.
"The lads are in a really good space and are enjoying working hard for each other. Sometimes you have to win ugly games because they really count at the end."
He continued: "Jordan Turner is playing some of the best rugby I have ever seen him play. I think that is because of him getting his career sorted and the team getting into good form. He has been outstanding.
"When he came in and told me about the NRL move he shook my hand, looked me in the eye and promised he would give 100 per cent until the end, and this proves it. He is a man of his word.
"We have a good balance there with Luke (Walsh) and Jon (Wilkin) through the middle.
"Joe Greenwood was immense – he went for 80 minutes again – and I thought Dominique Peyroux on his return had a superb game.
"But Jack Owens was one of the standout Saints performers. If you look at what he does off and on the ball, his defensive work and how well he works at the back of the field, he deserves a lot of plaudits.
"You also have to look at the extra effort from the other side of the field too. That never say die attitude that we have been searching for, we seem to have in buckets. It would have been quite easy to give it up over there but they fought hard.
"We were deserved winners. For large periods of the game we were the better side even though our completion wasn't great. I thought we handled the ball well in the right areas and we defended well.
"We haven't fallen in love with what we are doing though. We said a few weeks back that every game is a Grand Final and nothing changes that. We face who we face and have go out to play as hard as we can.
"They way we played eight weeks ago, with the completion we had tonight, we would have lost by 40 points. We were anxious with how we were playing but now we have got belief, faith and a trust that we can work hard for each other."
Saints' next Super 8s fixture comes at Langtree Park on Friday August 12 (8pm) when we face Catalans Dragons.
Tickets for this crucial tie are now on sale from the Ticket Office, via 01744 455 052 or online here.