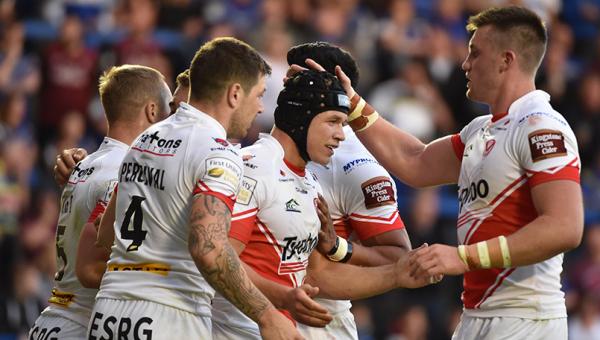 SAINTS continued their mid season resurgence with a dogged 20-18 win at Warrington.
Resilience shone once again throughout the side as Keiron Cunningham's men recorded their sixth win on the spin.
They led 12-6 at half time and to be fair it could and probably should have been more.
Louie McCarthy-Scarsbrook continued his excellent form with a try whilst Mark Percival combined with Adam Swift to put Jonny Lomax over.
The second half was built on that never say die defence that has been a facet of your Saints over recent weeks.
A touch of brilliance from Jordan Turner took Saints out to a lead they never relinquished whilst a wonder tackle in the corner, from Percival in the last minute, ended the contest.
Games between these two sides are often end to end, passionate occasions.
And from the off this was no different.
Warrington thought they'd scored early doors when Chris Hill went over from close range but he was penalised for a double movement.
Saints then won a penalty to get them into Wolves' territory for the first time – only for Chris Sandow to intercept as they looked likely down the right hand side.
Handling was at a premium in the opening stages with the home side slightly shading the possessional advantage from it.
But Saints were looking dangerous on the counter with Walsh orchestrating things well.
And that was proven half-way through the first half.
A Jordan Turner break almost set Saints on their way, but they had to settle for a drop out following Jon Wilkin's chip.
But from there they didn't disappoint – Turner hitting LMS for his ninth of the season.
Daryl Clark drew the Wolves back into it on the half hour mark – Gidley making it all square.
But Saints hit back within five minutes courtesy of Jonny Lomax.
Mark Percival made the break, setting Adam Swift off down the left hand side before the winger cooly sent it inside for his fullback to fly over with no one within 10 yards of him.
Percival converting to make it 12-6 at half time.
Saints weathered early second half threats from their hosts before winning a drop out thanks to great runs from James Roby, Luke Walsh and Turner.
And they should have had a repeat set following another kick on the last but the ball was inexplicably given back to the home side when it clearly came off a Warrington boot.
The game was beginning to bubble nicely and on the hour mark it boiled over as LMS and Jack Hughes got stuck into some handbags.
Saints won the resultant penalty and four drives later Chris Hill gave away a high shot to allow Percival the simple task of making it an eight point game.
Warrington hit back with 15 to go through Hughes as they took advantage of three penalties and a repeat set to draw within two points.
But Cunningham's men could point to a harsh call in the build up as it looked to all the world that Rhys Evans had knocked on.
That said, Hughes ran a superb line to break the defence.
Saints weren't going to give in easily though and after great kick chase forced a drop out, Jordan Turner burst through the line and showed all his strength to go over.
Percival made it an eight point game once again but within minutes Ryan Atkins went through the centre of the defence.
Dominique Peyroux made a try saving tackle on Atkins as the game entered the final five minutes, and then some wonderful kick chase put Rhys Evans right on his line.
Warrington were given the ball in the closing stages as Walsh was cruelly adjudged to have touched the ball from Chris Sandow's pass – and it almost came to haunt them as Evans took a pass that looked very forward to go over in the corner.
But Mark Percival, who is growing every week,  had timed his tackle to perfection and Warrington man was in touch.
It was a crucial decision and one the video referee got spot on.
Match Summary:
Wolves:
Tries: Clark, Hughes, Atkins
Goals: Gidley (3 from 3)

Saints:
Tries: McCarthy-Scarsbrook, Lomax, Turner
Goals: Percival (4 from 4)

Penalties:
Wolves: 8
Saints: 10

HT: 12-6
FT: 20-18
REF: Phil Bentham
ATT: 10,769
Teams:
Wolves:
6. Stefan Ratchford; 5. Matty Russell, 24. Toby King, 4. Ryan Atkins, 3. Rhys Evans; 1. Kurt Gidley, 7. Chris Sandow; 8. Chris Hill, 9. Daryl Clark, 10. Ashton Sims, 11. Ben Currie, 12. Jack Hughes, 14. Joe Westerman.Subs: 13. Ben Westwood, 16. Brad Dwyer, 18. George King, 27. Sam Wilde.

Saints:
1. Jonny Lomax; 22. Jack Owens, 18. Dominique Peyroux, 4. Mark Percival, 5. Adam Swift; 3. Jordan Turner, 7. Luke Walsh; 8. Alex Walmsley, 9. James Roby, 15. Greg Richards, 13. Louie McCarthy-Scarsbrook, 20. Joe Greenwood, 12. Jon Wilkin.
Subs: 10. Kyle Amor, 11. Atelea Vea, 17. Luke Thompson, 28. Morgan Knowles.