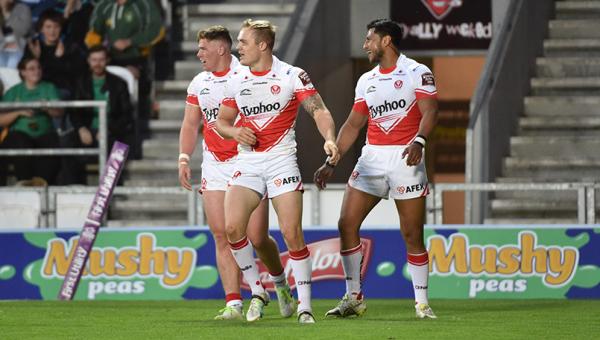 KEIRON Cunningham said Saints are riding the crest of a wave following their seventh win in a row – but the focus remains squarely on the next game only.
His side beat Catalans 39-16 at Langtree Park to draw them ever closer to a playoff semi final.
"I was expecting some sort of lull from the two big away games we've had in the last couple of weeks and I think in that first half we tried to over play it a little bit, or play when we didn't deserve or earn the right to play it," he said. "It was a little like the Warrington game – we weren't great in the first half but we went in with a lead.
"We then came out in second half and put them to the sword. We completed our sets really highly – at around 96 per cent – and that was massive for us and the reason we got the result we did.
"We put them in bad spots and although they lost bodies like us the best side deserved the game.
"We are still not falling in love with ourselves. We have got a big derby next week which we can look forward to but that is as far as we are looking. Momentum is a big thing; the boys are in a good space and they deserved that. Tough times this year have forged us as a group and we are probably getting what we deserve now."
He continued: "Adam Swift was great – scoring tries is what he gets paid for! All the back three played well as did Jack (Owens) on the other wing. Swift works tirelessly every week. He is still developing and learning and I don't think you have seen the best of him.
"Jonny Lomax was phenomenal. His defence and the way he organised the team and got his numbers right was superb. He saved around three to four tries and made the big play at the end.
"The players were brilliant and are hungry to go again. That is what momentum does for you. Coming to work is a pleasure and we are riding on the crest of a wave. Long may that continue."
Saints lost Mark Percival in the game and has a leg injury according to Cunningham.
"We handled it well but he will be a big loss for us," he said.
Next up for Saints is a trip to the DW Stadium on Friday August 19 when they will take on Wigan Warriors.
Ticket details are here.