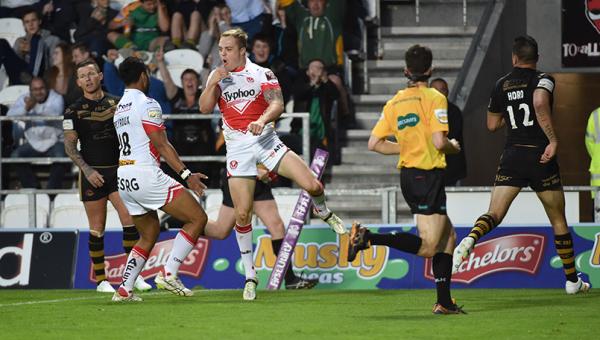 ADAM Swift grabbed FOUR tries as Saints downed the Catalans Dragons 39-16 at Langtree Park.
A first half hat-trick set Keiron Cunningham's men off to their seventh win on the spin – and the third came when they were down to 12-men.
Luke Walsh was sent to the bin for a reckless tackle, but that didn't stop the winger latching on to Jordan Turner's pinpoint kick.
His fourth came after half time, whilst there were also tries for Jack Owens and Joe Greenwood.
Saints began the game pretty well but it took a fine Jonny Lomax tackle to stop a certain Todd Carney try after the half back had collected his own chip over.
But he was powerless to halt Dave Taylor's burst a minute later that handed the Dragons the lead.
James Roby tried a grubber in the 12th minute that went dead and then Lomax just couldn't haul in Joe Greenwood's offload.
Something had to stick eventually and on the quarter mark, Mark Percival made a break down the left hand side and fed Swift for his 11th of the season.
And the winger's game tally was doubled moments later with a try out of the top drawer.
Again Percival made the break and found Lomax on his inside. He was chopped down but within seconds Saints had won another set on the right hand side.
Cunningham's men weren't hanging around and when it was shifted to Percival once again he made no mistake in popping Swift over.
Walsh with the conversion off the touchline.
Kyle Amor was unluckily called for a knock on over the line on the half hour mark – and then it got worse for the home side as Luke Walsh was sinbinned for an awkward tackle on Todd Carney, sparking a melee.
Punches were thrown from the visitors – ignored by the official – but it didn't matter as seconds later Baitieri went under the posts.
That try incensing the home support even more as it came off the back of a harsh penalty on LMS.
Saints hit back with just 10 seconds left in the half.
Jordan Turner, who had seen a earlier pass go into touch, saw Swift free on the left and stabbed a lovely weighted kick in his direction.
The winger collected, rounded Tony Gigot, and collected his third.
Jack Owens making it 16-12 at half time.
Saints got on the front foot early in the second as firstly a high ball caused panic in the Dragons' defence and then Jonny Lomax was felled by a nasty looking tackle on his way to the line.
The referee had no action other to award the penalty and Walsh duly tagged on the two points.
On 49 minutes, Morgan Knowles darted through a gap too – but was hauled down – again to hand Walsh the simple task.
Catalans' ill-discipline was becoming more regular and following another high shot, Knowles hit Adam Swift for his fourth of the match.
Walsh slotting his kick off the touchline.
Saints were dominating and a high kick from Walsh almost brought more points – only for Luke Thompson to be denied for an offside by the video ref.
Walsh added a drop goal on the hour mark to keep the board ticking before Vincent Duport pulled one back for the Dragons.
Saints were always top dogs though and that was underlined when Walsh chipped it to the corner, at pace, and Jack Owens won the foot race to put down.
The try made in part by a piece of individual brilliance from Lomax in defence who stopped a 40:20 attempt with his fingernails.
Joe Greenwood then capped off a terrific display with his 11th of the campaign with three minutes to go.

Match Summary:

Saints:
Tries: Swift (4), Owens, Greenwood
Goals: Percival (0 from 1), Walsh (6 from 6), Owens (1 from 1)
Drop: Walsh

Dragons:
Tries: Taylor, Baitieri, Duport
Goals: Albert (2 from 3)

Penalties:
Saints: 11
Dragons: 9

HT: 16-12
FT: 39-16
REF: James Child
ATT: 9440

Teams:
Saints:
1. Jonny Lomax; 22. Jack Owens, 18. Dominique Peyroux, 4. Mark Percival, 5. Adam Swift; 3. Jordan Turner, 7. Luke Walsh; 8. Alex Walmsley, 9. James Roby, 15. Greg Richards, 13. Louie McCarthy-Scarsbrook, 20. Joe Greenwood, 12. Jon Wilkin.
Subs: 10. Kyle Amor, 11. Atelea Vea, 17. Luke Thompson, 28. Morgan Knowles.

Dragons:
1. Tony Gigot; 2. Jodie Broughton, 33. Benjamin Garcia, 4. Vincent Duport, 20. Fouad Yaha; 6. Todd Carney, 27. Lucas Albert; 14. Dave Taylor, 16. Eloi Pelissier, 10. Remi Casty, 11. Glenn Stewart, 12. Justin Horo, 13. Jason Baitieri.
Subs: 8. Louis Anderson, 9. Paul Aiton, 15. Julian Bousquet, 17. Gregory Mounis.