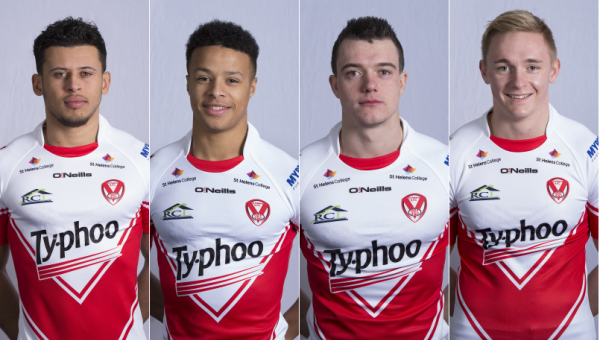 FOUR of Saints promising youngsters have extended their contracts at the club.
Calvin Wellington and Regan Grace have joined Ricky Bailey and Jake Spedding in penning deals that will take them to the end of season 2017.
Head Coach Keiron Cunningham said: "We're delighted that these four players have agreed contracts with us. They are dedicated youngsters who, if they continue to keep their head down and work hard, could go very far in the game.
"Calvin made his debut at the Magic Weekend and has been playing well in the reserves competition. To see his journey from Wales to where he is now is testament to his character and the hard work of the academy staff.
"Likewise, Regan Grace is another player who is dedicated to his craft. He is an absolute flyer and if he continues to work hard could be very special indeed.
"Ricky has played well in the reserves and 19s competitions and adds leadership to those sides whilst centre Jake Spedding is another talented player.
"His debut against Warrington this season was excellent and he didn't look out of place."
Calvin Wellington, 20, and Regan Grace, 19, agreed professional terms with the club after originally impressing on a two-week trial.
Centre Calvin caught the eye of Saints' scouts playing Rugby Union for Aberavon Quins – having also played league for Wales and the South Wales Scorpions.
Despite not yet making his first team debut, Regan has already played twice for the Wales senior squad and has a superb try scoring record in the Academy.
Full back Ricky Bailey, 19, made his debut against Hull on Easter Monday in 2015.
He came through Burton Borough (Newport), Telford Raiders and the Midlands Regional Player Development Camp, Midlands Scholarship and Shevington before joining the Saints – as well as representing England at Academy level.
Finally, 19-year-old Jake Spedding is a centre / winger who, like Calvin, made his debut this season.
He has played twice for the Saints after signing from Blackbrook – against Warrington and Catalans – and is an Academy International. He has split his playing time with the 19s and reserves this season, scoring 15 tries to date.