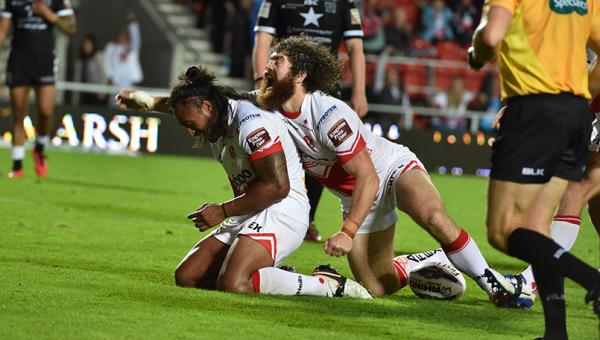 KEIRON Cunningham said the two points were "crucial to where we are heading" following Saints 31-10 victory over Hull FC.
"Obviously our ultimate goal was to get the two points and if you had given me that scoreline before the game I would have taken it," he said. "I would have taken a two point, one point win … it was important to where we are heading as a club to get those points.
"We got some stiff calls when we tried to get a foot in the game, they hurt us, but we didn't look on our money at the start of the game. Perhaps we fell in love with Hull's Challenge cup win as I don't think we were as ruthless as we should have been.
"In the second 20 we turned a bit of a corner and did the right things, then had a good chat at half time. From there we got a good response.
"Things are getting serious now. We have three games left, there are lots of positions up for grabs and you don't know where you could finish if you do the right things.
"There were individual errors but apart from that we defended what they threw at us. That is good for us and it is good to see our defence is nice and firm after the work we have put in.
"Hull had a real good dig."
He continued: "Kyle Amor played well, as did big al and Dominique Peyroux's carries in the second half were good. Young Jack Owens and Adam Swift played well – Adam came up with some big plays. He was involved in the turning points. Jonny Lomax has been brilliant too and is up there with the best full backs in the comp.
"James Roby had surgery a week or so back – he had an elbow clear out and played 70 minutes tonight for the club. He epitomises what we are about."
Saints are next in action at Langtree Park on Thursday when they take on Castleford. Tickets are on sale from the Ticket Office at Langtree Park, by calling 01744 455 052 and online here.