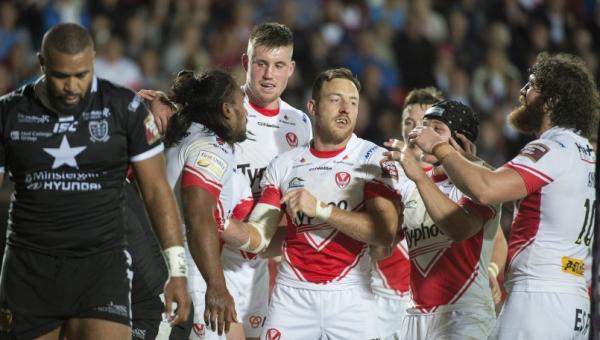 KEIRON Cunningham is expecting Castleford to provide a tough opposition when they come to Langtree Park on Thursday.
Although they can't make the top four, Saints have to be wary of the Tigers' carefree style according to the club's head coach.
"They are playing really well," he said. "If we hadn't done what we have done over recent weeks I'm sure they would have gone again and grown another leg. They will come here to play for sure. They are playing a carefree type of rugby and have overcome a lot of injuries to do that. These types of teams are usually the most dangerous you can play against.
"We have started slow in our last two home games but have played against two sides who have come here and wanted to play. Hull brought in six, seven fresh players who had points to prove and took it to us. We didn't help ourselves but got better as the game went on.
"There were a couple of mental errors in the game but the good thing for me was how we overcame our start. Even taking the Wigan game into account we have been phenomenal defensively over the last nine games and one of the best in the comp. We are growing into that and gaining confidence going into the back end of the year."
Saints will welcome back Luke Walsh and Luke Thompson into the line-up this Thursday after they completed their two-game suspensions.
"We had good combinations with them before they were banned," KC continued. "Theo (Fages) came in perhaps a little too soon for that Wigan game, but he was much better against Hull and looked comfortable. I have some tough decisions to make but you do lean towards that pairing who played well in that seven week block.
"We still don't know where we could finish. All we can do is take care of what we can take care of. We had four really tough games to start this phase of the comp and have taken six points from a potential eight. It has put us in a good spot and now we have the so-called lower teams in the Super 8s.
"These games will be humdingers though. Cas pose all types of threat, Widnes rolled Wigan and then you face Wakefield and you don't know what they can throw at you.
"Of course we could like a home draw in the semi-finals – there is an advantage in that – but our away form has been good too. We will know more after the final round."
Tickets for Thursday's game are on sale from the Ticket Office at Langtree Park, by calling 01744 455 052 or online here.