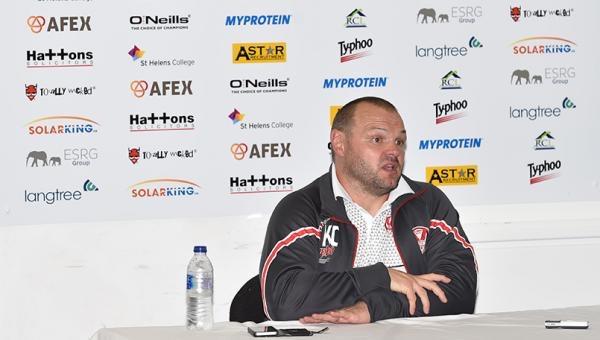 KEIRON Cunningham was pleased with the 40-16 win over Castleford on Thursday night which lifted his side to third in Super League.
After the match he said it is difficult to play sides that have nothing to lose.
"These are really tough games to play in," he said. "When the squads were announced early in the week expectations got higher too. You have to credit Castleford for the way they have played in the last few weeks. They have beaten some top teams and played some enterprising rugby.
"When you play against those carefree sides it doesn't matter (for them) if a pass doesn't stick or a kick doesn't find its spot. I felt we dropped into that vicious cycle a bit in the first half.
"The defence and effort were there but the moral about playing rugby league is it is a simple game. If you keep hold of the ball, kick it and tackle well and get in the right areas of the field there is a good chance you might score a try.
"They came to us in the first 20 minutes, but in the second 20 we completed high and posted some points. We should have kept them scoreless but we brought the NFL rulebook out and they scored at the end."
He continued: "Morgan Knowles and Luke Thompson were a good combination off the bench for us. We missed Thommo last week as he was giving us a lot before he got the ban. He is a real force for us and is coming of age. Morgan is an unsung hero. He tidies everything up; his wrestle and contact is brilliant and he controls the middle of field. He has he bright future.
"Kyle (Amor) and James Roby are turning up each week too. We probably take for granted what they do for us each week.
"We aren't in a bad spot. If it wasn't for a poor performance with the ball in hand at Wigan we probably should be 10 from 10. We are still edgy at the start of games and we have to overcome that.
"Now we face two games that are similar to tonight – sides that are hellbent on shaking things up in for the top four. Saints v Widnes games are always entertaining too."