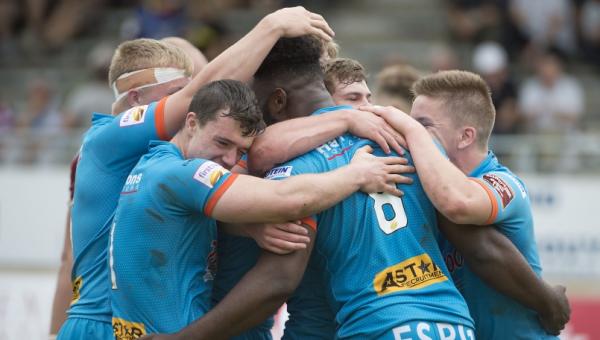 SAINTS v Wigan is big at any level – but when it's in a Grand Final it's even bigger!
Saints 19s face the auld enemy this Sunday at Langtree Park (2pm) for the right to be called Academy Champions.
Derek Traynor's side have had a formidable season – winning 20 of their 20 league games and then beating Widnes in the semi-final 46-6.
But that will count for nothing against last season's winners; the team Saints lost to at the same stage last year.
"We have had a good season but we know we have to get our performance right on Sunday and we are preparing hard," Derek said. "We are looking forward to it.
"There is no need for any motivation when we play Wigan. They have got a great record in this competition. Although we beat them at their place in our unbeaten season to date all that will count for nothing on Sunday.
"It's who performs on the day that's what we will be focusing on."
He continued: "The players from both sides know about each other as they have literally been playing against each for their various club teams since the age of eight, nine or ten.
"I hope that all Saints supporters can get to the game and the team the support it deserves. The boys all appreciate the support you give them and the atmosphere you create when you watch our curtainraisers before the first team play."
Entry for the game is £5 and £2 but if 2016 Members purchase their tickets in advance then they can save £2 and £1 respectively.
Tickets are on sale from the Ticket Office and online here.
There will also be cash turnstiles on the day and the Red V Cafe Bar will be open from 12.30pm.
All tickets are unallocated but there will be Saints and Wigan blocks in the South Stand.