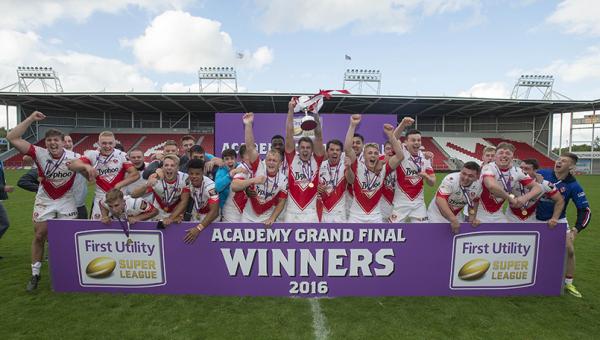 DEREK Traynor implored his 19s to realise the "magnitude" of what they have achieved following their stunning 22-20 extra time win over Wigan on Sunday.
Danny Richardson kicked a penalty four minutes into 'golden point' to win the Grand Final – and make sure Saints finished the season unbeaten with 22 wins from 22.
"To go unbeaten is something special and I hope they realise what they have achieved," he said. "They have been resilient. We weren't great today and we didn't play like we usually do but that ending showed the desire and drive in them.
"At 20-16 with three minutes remaining you are hoping you can bring it home. You know the opposition has nothing to lose and will throw the ball around, take risks and it came off for them.
"I didn't expect them to kick the conversion to be honest and luckily enough for us he didn't and it took us to extra time.
"Danny Richardson has dropped some important goals for us this year and I thought if we got into a position he would have the mental toughness to get us some points.
"It was all a matter of getting in a position to do it… and luckily enough we got a penalty. It took a lot of nerve to do what he did.
"He would have known that the kick wins the game and he took it fantastically.
"Our job is to get players through to the first team but it's always nice to win trophies! Not all these lads will go on to have Super League careers with Saints and there this is a massive memory for them. Hopefully a lot do go on to have a long career here."
He continued: "I have to say the biggest thing that came out of today is how important it is to have the Final as a standalone event.
"It should be treated the way it has been today. I think that has been the biggest success and the crowd were fantastic."