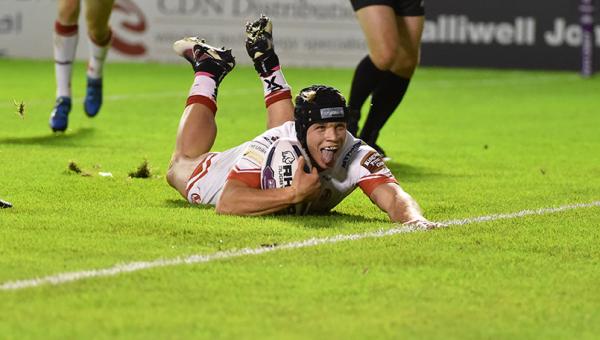 KEIRON Cunningham was understandably upset following Saints' defeat to Warrington but praised his side for their efforts this season.
A controversial semi-final ended 18-10 to the Wolves on Friday night with several calls heading away from the visitors.
"We fought really hard and played good semi-final football," he said. "We needed a little bit of luck and a few of those calls but they didn't quite go our way tonight. You're looking at more than just 50:50s… you can look at all the big calls. Stefan Ratchford drops the ball and we get a scrum in our favour but that changes to a penalty against us for Ratchford's poor carry.
"Ashton Sims drops the ball and we get a penalty against us. These are game changing calls in those big games. But it isn't something we haven't spoken about before. This consistency happens every week. You only need to look at the video referee calls today too. 
"My boys have have busted their backsides since November to get into this game. They then do what they have done and people can treat them in the manner they have and nothing happens. Tom Lineham drops the ball in the corner, Dom Peyroux scores a try and and it is a different game.
"Sport changes by minute things, it is a game of inches and today it certainly was. That is sport… they say it evens itself out and you get your share of tough calls and good calls. It certainly evened out for us today didn't it…"
He added: "Warrington are a great team and when I am saying this stuff about the calls I don't want to detract from what they did today.  I don't want anyone to think I am whinging about bad decisions… I am just stating the obvious. They played exceptionally well, as well as last week, and brought Kurt Gidley back who steered them around the field.
"We were on the back foot in the first half but luckily enough got in front. We hung on in there and got chances but when we didn't things went against us a little bit.
"You can talk about the final stages and our composure but it should never have been a try and the game should have therefore been closer.
"We shouldn't have been trying to chase the lead, we should have been trying to finish the game off. Unfortunately the calls didn't go with us today.
"Jonny Lomax run his blood to water, as did Jon Wilkin, but if you look all across the team they have been immense. The juniors have made debuts and not looked back. The kids that have been in and out have been important. Shannon McDonnell has contributed some lovely stuff for us. We have had lots of great performances through a fair amount of adversity too.
"I thought we deserved a little bit more than we got in that game tonight."