Saints Community Development Foundation (SCDF) Ambassador for the blind, Stuart Lanham, launched one of the biggest support ventures in our history in May.


SCDF is delighted to announce that they have teamed up with the Guide Dog Association to supply people in St.Helens who require a guide dog, with a companion.
The latest data from the Guide Dog Association reveals that there are four people in our Community waiting for a guide dog and Stuart has already set the ball rolling with the purchase of our very own guide dog generously paid for by Friends of the Foundation fundraising programme. The dog has been appropriately named, 'Boots' – pictured.
The guide dogs however are costly at £5,000 each (including training) and we need the help from members of our fantastic community to raise the remaining £15,000.
Steve Leonard SCDF Director said: "This is a fantastic support venture that would surpass anything we have ever done if we can achieve it. Just think of the difference we will be making to seven people who are from our own community.
"Allowing them to do the things that you and I take for granted. I know the people of St Helens and the way we look after our own, so please do what you can to raise that all important £15,000.
"The foundation has started the ball rolling and will be parading 'Boots' the guide dog at an upcoming Saints home game. Look out for all the ways you can assist and together we can achieve this and send a message to the rest of the sporting world.
"Thanks in advance of your kind generosity. If you need any reason to donate, then please take time to read Stuarts story below. This was just another day in Stuart's life."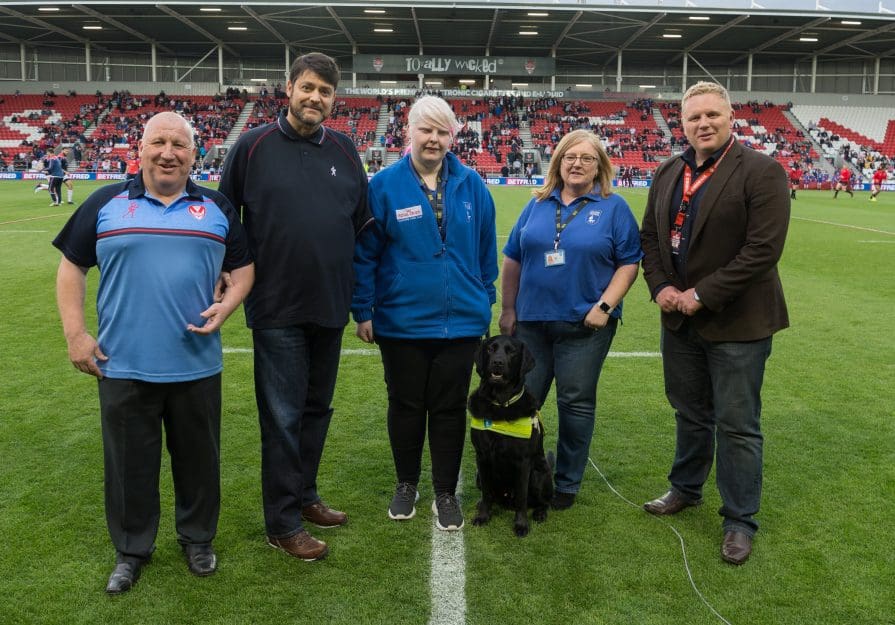 This is Stuart's story….
"It seemed just an ordinary day but in the evening I was freezing, shivering and the pain in my arm was getting worse.  My wife wanted me to go to the Walk in Centre to be checked over, but I refused initially saying I would be OK. As the evening progressed my daughters also started nagging me to go to see a medic, so I agreed for Janine to take me.
"However, when we got into the car Janine made the decision that I was too ill for the Walk In Centre and we drove straight to our local A&E. The A&E team sent me for a CT scan, but as I was in so much pain I couldn't sit still enough to go through the scanner. I then took a turn for the worse, the MET team were called and they rushed me into theatre.
"I was operated on and when they opened up my arm, they saw I had necrotising fasciitis with sepsis that had developed into septic shock. They debrided the infection from my arm, and I was then sent to the Intensive Therapy Unit.
"A day later there was still no improvement and I was taken back to theatre; there my arm was amputated to try and save my life. My kidneys failed and I was put on dialysis, my whole body swelled to double the size and it was touch and go for about 10 days.
"When I came round, I told the nurses and Janine that I couldn't see. Initially, we thought it was due to the medication I had been on and that it was temporary however as time went on and as we saw more specialists we realised it was permanent – not only had I lost my dominant arm but I was completely blind too.
"It has been so hard over the last four years, but I am just starting to get out a bit more and I help at a blind school to help other people who are losing their sight. I have also trained with guide dogs which I believe will be a massive help for those who do not have sight. Guide dogs can Help those without sight leave their homes with assistance, guide dogs can be used for individuals who are physically active, or not."
If you would like to donate to this fantastic cause, and help Saints Community Development Foundation make a positive difference within our communities please CLICK HERE or email [email protected] to donate or make a cheque payable to SCDF Ltd that will go straight into the appeal.
Follow the great work of Saints Community Development Foundation on social media:
Twitter – @communitysaints
Instagram – @communitysaints
Facebook – Saints Community Development Foundation