St.Helens R.F.C is delighted to have signed a new kit sponsorship agreement with Quadrant Partnerships to feature on the left sleeve of all Men's and Women's playing shirts for the remainder of the 2019 Betfred Super League season.
Quadrant Partnerships branding will appear for the first time on our Magic Weekend shirt for the Round 16 fixture with Castleford Tigers at Anfield this Sunday, 6pm kick-off.
Quadrant Partnerships are an energy broker that works within the commercial energy sector. Their services include energy procurement, providing the most up-to-date prices for new energy contracts to the latest in renewable technology such as Solar PV and air source heat pumps.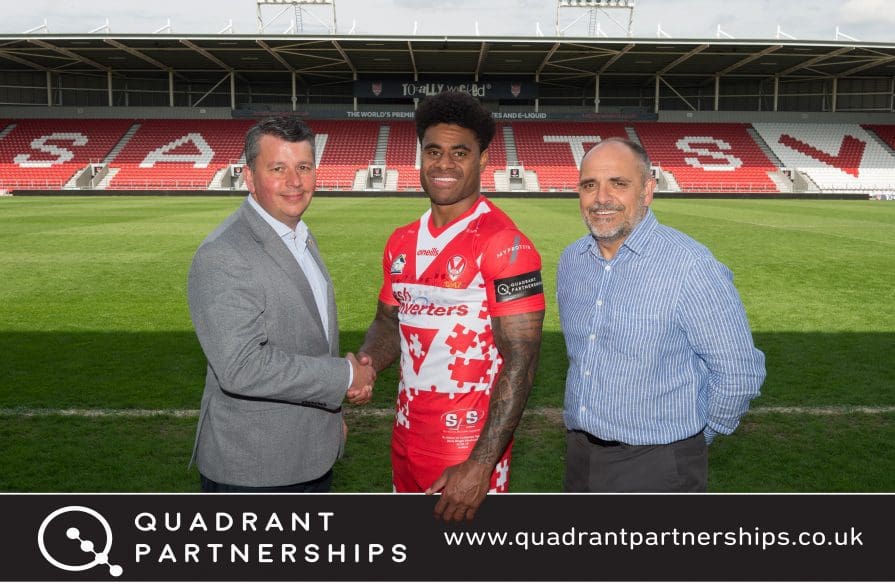 Neil Davies from Quadrant Partnership is excited by their association with Saints: "We were delighted when the opportunity arose to partner with Saints for the remainder of the 2019 season. Over the last two decades we have been privileged to watch some of the most memorable moments in Super League history whilst watching St.Helens.
"Quadrant are proud to be a part of that history and looking forward to working with Saints both now and in future Super League seasons."
Saints General Manager, Dave Hutchinson is equally delighted to welcome Neil and his business to the Club: "We are very grateful of Quadrants support for the remainder of the season, and look forward to developing a longer term partnership in the future.
"There are some exciting opportunities available between the club and Quadrant and over the coming weeks we shall be exploring them further as to how they can be of benefit to our fans and the club alike.
"Neil is a big supporter of Saints and he has worked hard to ensure Quadrant are a good fit with our future plans at the club."
For more information on Quadrant Partnerships visit www.quadrantpartnerships.co.uk.
Pictured are Neil Davies, Dave Hutchinson and Kevin Naiqama showcasing the new Quadrant Partnership branding.