Here is the 2020 Away Shirt! For the first time in many years we have opted for an away shirt design with a heavy white presence, as featured on our famous home shirt.
This white sits alongside the striking Royal blue that sets the design off in style. The blue has been a strong favourite amongst Saints fans throughout history and this shirt continues that theme.
The design is a direct reverse of the 2020 home shirt design with the same details and features, again, the first time in many years that the design has followed this path.
It, of course, proudly displays a modern, single tone, blue club crest on the left chest and new for 2020, Cash Converters are now our principal away shirt partner.
'Ex Terra Lucem' the Town's motto, is printed inside the collar.
The shirts are produced in the UK by O'Neills Sportswear from Koolite fabric, a breathable material that offers high wicking properties for enhanced wearer comfort.
There is also a player-fit version of both shirts, which hugs the body and has reinforced stitching on all seams. It also has a sublimated Club crest and a rubber gripper on the chest.
Remember to select your size carefully for the player-fit version, bearing in mind it is tight-fitting for a more athletic physique.
Personalisation of player names and numbers will be available along with a 'Champions' version of the Betfred Super League arm patch logo, once the 2020 squad numbers are confirmed and released. Letters and numbers on the home shirt will again be in red with the away once again in white.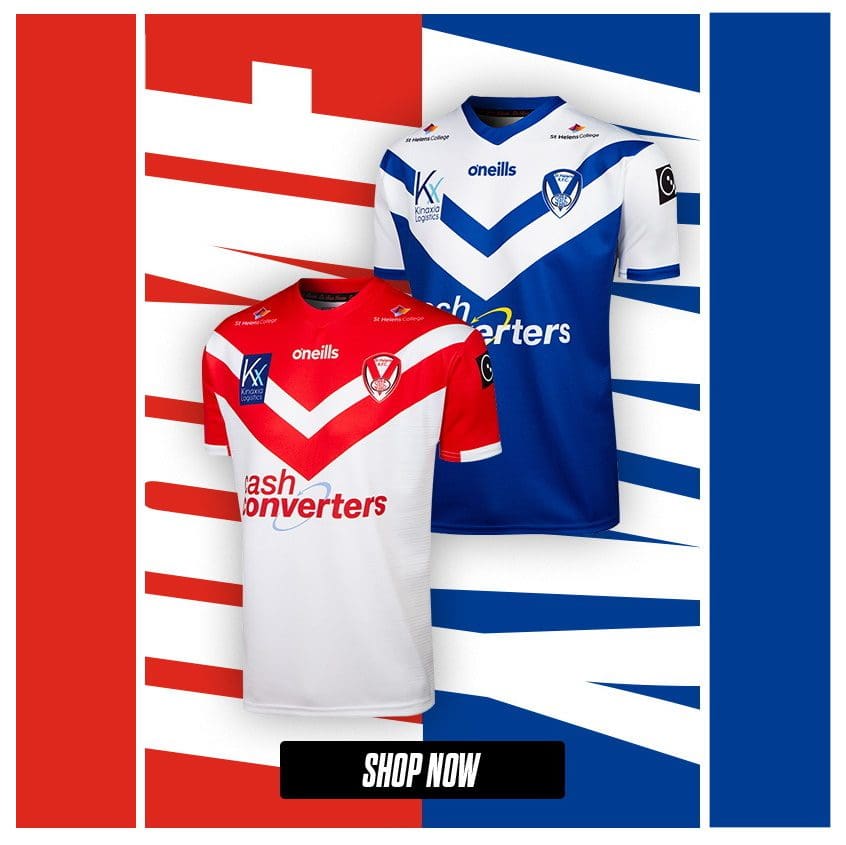 Prices:
Adult Replica shirts are available in sizes X-small through to 7XL and are priced at £50.
Player-fit shirts are available in sizes X-small through to 3XL and are priced at £70.
Ladies shirts are available in sizes 8 through to 18 and are priced at £50.
Children's shirts are available from age 5/6 years through to 13/14 years and are priced at £38.
Baby shirts are available in sizes 0-6 months and 6-12 months only and are priced at £32.
Infant kits, for ages 1 to 2 and 3 to 4 are on sale for £42 and include shorts and socks.
Please note: Both the home and away shorts and socks will arrive at the Saints Superstore at the end of next week (week commencing 18 November) all replica shirts are currently in stock from today.

How to Buy: 
Here's how you can get your hands on the 2020 Home and Away Replica Kits.
They are available to purchase in store and online now at saintssuperstore.com, or by visiting the Club Superstore at the Totally Wicked Stadium, open Monday – Friday 9am – 5pm, Saturday 10am – 4pm.
Phone orders are available by calling 01744 455050 and selecting the Superstore option, however we strongly advise fans to purchase either online or in store due to high expected demand around the launch period.
2020 Members can get 10 per cent off either or both of the 2020 kits throughout November and December, but this can only be processed in store with a valid 2020 Membership card (t&cs apply, subject to availability)
If you haven't done so already, you'll need to collect your 2020 Membership card from the Ticket Office at the Totally Wicked Stadium, before being able to access the discount.
2020 Home and Away Kits revealed...
2020 Away Kit