As the Betfred World Club Challenge approaches, we can announce our line-up of entertainment for you to start off your Saturday night...
Gates and concourse kiosks at the Totally Wicked Stadium will be open from 6pm (this has changes from the originally published 5pm).
Local Oasis tribute act, Oaces will be performing their set on the pitch pre-match and as we build up to kick-off, there will be a spectacular light show to enjoy as the players prepare to enter the field.
There will be additional mobile bars aswell as our normal food and drink kiosks for your to enjoy before and during the game as well as facepainting and inflatables for Junior fans in the concourse areas.
Our souvenir matchday programme will also be available to purchase on the evening of the game. This will be the last printed programme produced by the Club as we have now switched to our digitial only, e-programme, which you can find out more info about here.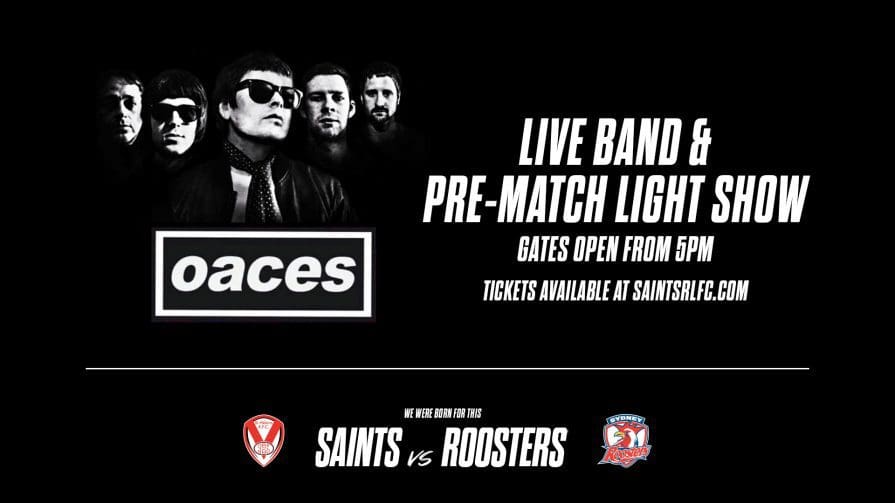 Not got your tickets yet?
We have been able to release a small number of tickets in South Block SJ – on a first come first served basis.
There are only a number of corner seated areas (see map below) and the East Stand (which is a terraced area) with availability to grab your ticket for the match.
The East Stand was opened late last week for fans to purchase their tickets.
2020 Members can get a discount on the full matchday ticket price if purchased up until gameday, subject to availability.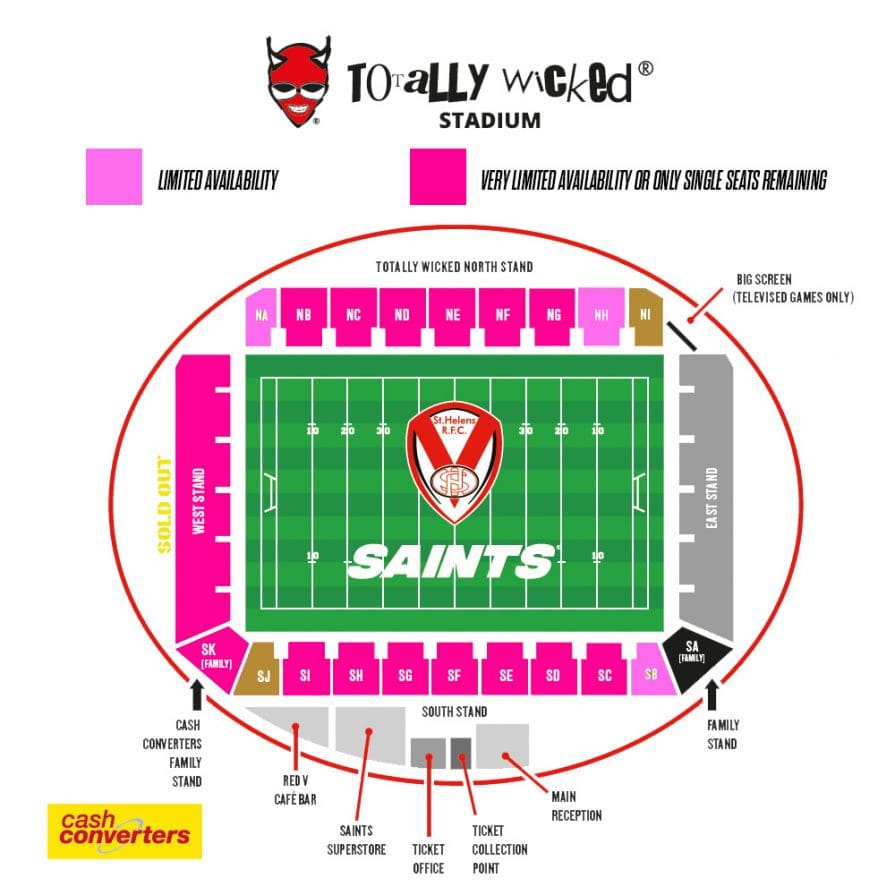 Ticket Prices
Non-member Prices

West/East/Family
Bronze
Silver
Gold
Adult
£23
£25.50
£28.50
£30.50
Concession
£16
£19
£21
£23
Young Adult
£16
£19
£21
£23
Youth
£13.50
£15.50
£17.50
£17.50
Junior
£10
£10
£12
£14

Member Prices

West/East/Family
Bronze
Silver
Gold
Adult
£21
£23.50
£26.50
£28.50
Concession
£14
£17
£19
£21
Young Adult
£14
£17
£19
£21
Youth
£11.50
£13.50
£15.50
£15.50
Junior
£8
£8
£10
£12
Under 5s are free with an Adult Ticket but still need to claim their ticket to gain entry.
Disabled Supporters need to contact the Ticket Office to book their place.
2020 Members can log into their account here, if viewing the ticketing website on a mobile device you will need to rotate it to landscape. They can also call 01744 455052 or visit the Ticket Office at the Totally Wicked Stadium open Mon-Fri 9am-5pm, Sat 10am-4pm.
If any 2020 Members have issues logging into their account please email us at [email protected]
Non-members can also purchase tickets online here.
VIP Hospitality has sold out.