As part of Black History Month, this week's Betfred Super League round of matches will recognise the impact made by black players in the sport over the past 125 years.
The month-long campaign will peak at this week's Round 17 fixtures which will be re-named the Black History Round.
And ahead of Saints clash with Leeds Rhinos this coming Friday, Saints Heritage Society have picked out five of the Club's greatest ever black players: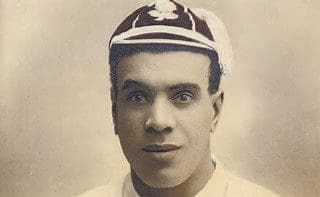 #242 James Peters [1914-15] 'Rugby Pioneer'
Born: Salford
Signed From: Barrow
Sold To: Retired
2 appearances
Honours: None
James was the first black player to play full international rugby union for England in 1906, against Scotland and scored a try. A circus bareback rider, whose father died in a lions' cage, he was a nippy scrum-half from the Plymouth club. A carpenter by trade, he lost three fingers in an accident at Devonport dockyard and signed for Barrow, before a two-match cameo for the Saints before calling it a day. A true sporting pioneer for the Afro-Carribean community.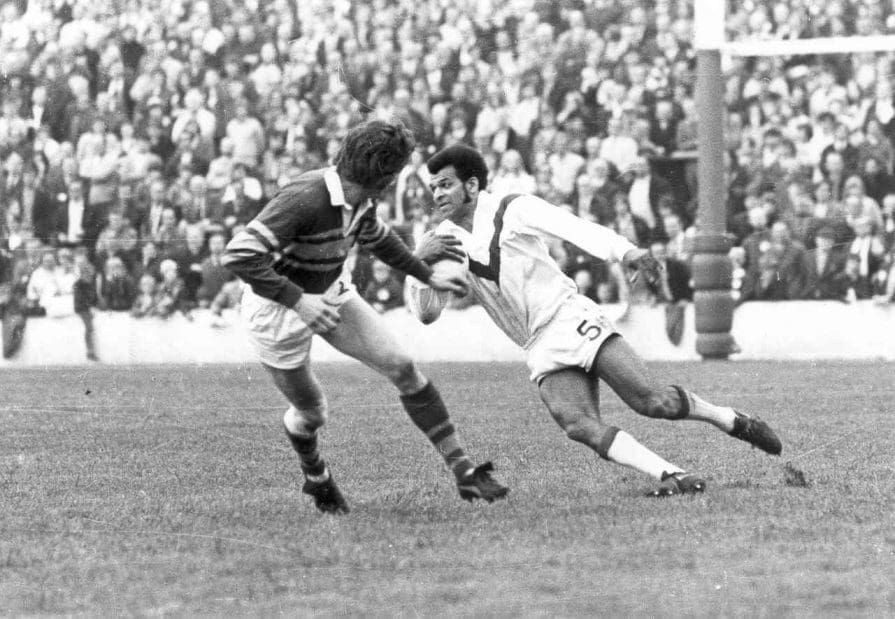 #853 Frank Wilson [1968-76] 'Elusive and unpredictable'
Born: Cardiff
Signed From: Cardiff RUFC
Sold To: Salford
310 apps, 175 tries, 525 pts
Honours: Lancashire Cup final: 1968; Floodlit trophy finals: 1971, 1975; First Division Championship 1974-75. Wales [14]
This guy was a fantastic entertainer, with such brilliant evasive skills on the flanks that he became a firm crowd favourite. Taking over from van Vollenhoven was no easy task! He was an excellent finisher too and could also perform well in the centres. Yet a combination of injury and sheer bad luck meant that his winning medal total did not quite match his tremendous contribution to the team when he wore the red vee.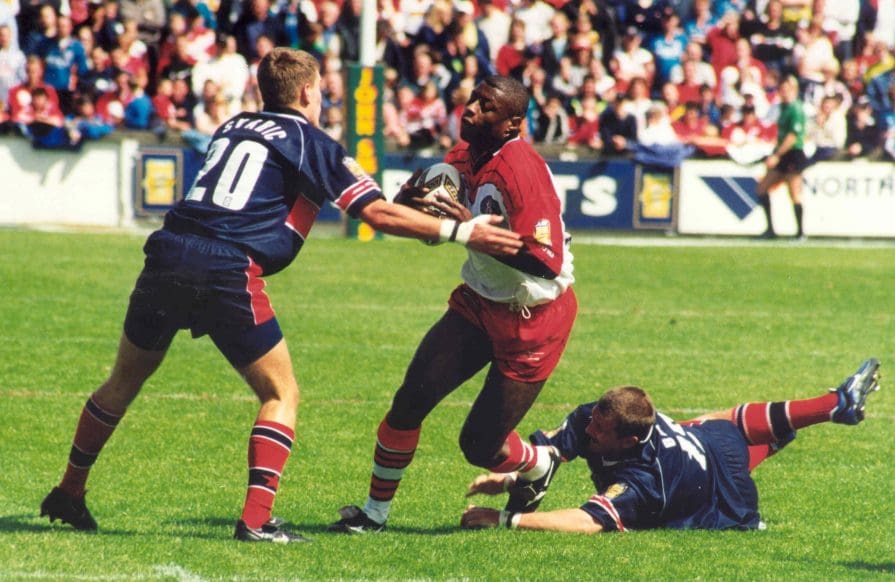 #1030 Sonny Nickle [1991-1995/1999-2002] 'Dynamic and uncompromising'
Born: Leeds
Signed From: Sheffield Eagles
Sold To: Bradford Bulls
232 apps, 49 tries, 196 pts
Honours: Premiership trophy: Premiership final: 1993; Grand final 1999, 2000; World Club Challenge 2001; Challenge Cup final 2001. Gt Britain U21s; Great Britain [6]; England [1]; Gt Britain tourist 1992.
It must have been a big plus to have Sonny's name on the team sheet – but not for the opposition! A powerful player in the front or back row, with a surging run into the very heart of the enemy. He had a crunching tackle but was mobile too. Remember the lateral run when he scored that magnificent try against Wigan on Boxing Day 1992? Marvellous stuff! A huge crowd favourite.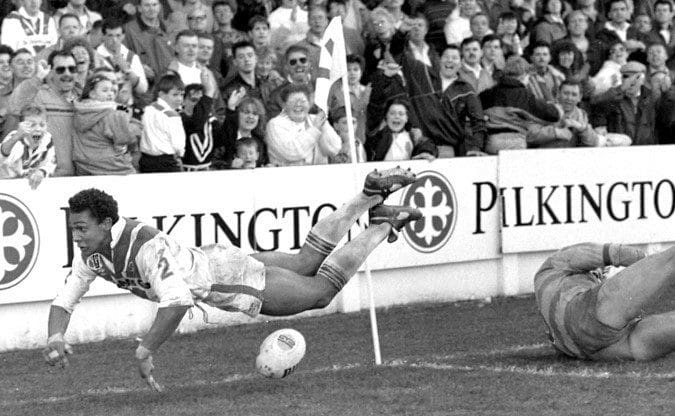 #1011 Alan Hunte [1988-1997] 'Imperious runner'
Born: Wakefield
Signed From: Wakefield Trinity
Sold To: Hull Sharks
244 apps, 189 tries, 756 pts
Honours: Premiership trophy final 1993; Challenge Cup final 1996; Super League 1996. Great Britain [12]; England [1]; Gt Britain tour 1992, 1996
On his best form, there were few to touch him in terms of a combination of power, pace and try-scoring ability. He always seemed to be such a confident runner in full flight, who loved crossing for four-pointers. Alan scored four on three occasions for Saints, the best against Warrington 1991 – a superb spectacle and did the League and Cup double in the inaugural Super League season in 1996, something he richly deserved after a fantastic career at Knowsley Road.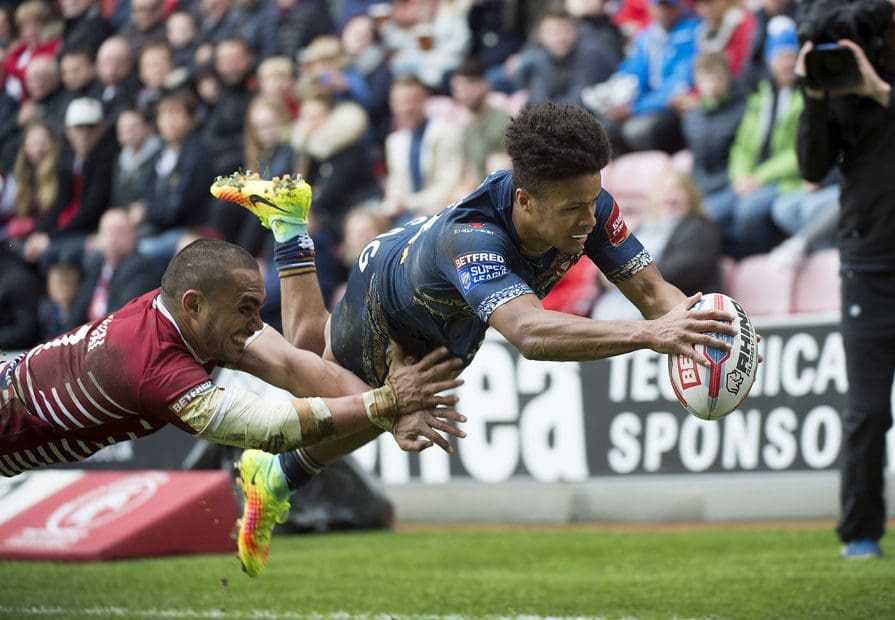 #1239 Regan Grace [2017 to present] 'Welsh Wizard!'
Born: Port Talbot
Signed From: South Wales Scorpions
106 apps, 62 tries, 248 pts [as at 19-10-20]
Honours: Academy Championship 2016; League Leaders Shield 2018, 2019; Grand final 2019. Wales World Cup representative 2017
Wow! Anyone who saw his fantastic hat-trick against Leeds Rhinos at Headingley will have a good idea what this lad is all about: a devastating broken-field runner, with great acceleration and deceptive core strength. Regan scored on debut at Wigan Warriors in 2017 and has never looked back. A veritable gem of a winger from the Valleys. There's more to come too!