The Champions are ready to welcome you home to the Totally Wicked Stadium...
2020 has been a tough year, but despite the huge challenges facing us all, your Saints have continued their fabulous recent record in the Betfred Super League with another strong season culminating in our eighth Super League Title in a night that will never be forgotten in Hull… we have gone back-to back!
We now can start to look forward with excitement to a brighter 2021 and we can't wait to welcome you back home to the Totally Wicked Stadium! Your loyalty during these adverse times has been amazing and we want to make sure 2021 goes off with a bang!
We have recruited to strengthen our already formidable squad with the additions of hard hitting NRL forwards Joel Thompson and 'Iggy' Paasi as well as the versatile Sione Mata'utia and promising front row giant Dan Norman. They will complement the homegrown talents including the likes of Morgan Knowles & Matty Lees, who have signed extensions at the Club, as well as the rest of our star-studded squad of Champions.
We are planning to welcome you back to a Covid-secure venue, which you can attend with confidence from the start of the defence of our title in March 2021.
Renewing 2021 Members will be rewarded with priority access to home games in the event of a reduced capacity at the Totally Wicked Stadium.
Members will again be able access streamed home games via the Our League app, should we have to play any home games behind closed doors.
We have also extended the renewal window to the end of Feb to give fans time to plan their finances.
In light of the difficulties caused as a result of the Pandemic, we understand that many fans will have been impacted financially. As promised, we have Frozen all 2021 prices and to assist fans in retaining their Membership, you can make it a simple monthly payment and spread the cost of your Membership into easy-to-pay chunks with our popular eight-month Direct Debit plan which is available now.
We will also commit to reserving your 2020 seat or place at the stadium until the 2022 season, at the Renewal rate for those fans who feel they are unable to attend in 2021.
This is in addition to your range of Membership benefits below.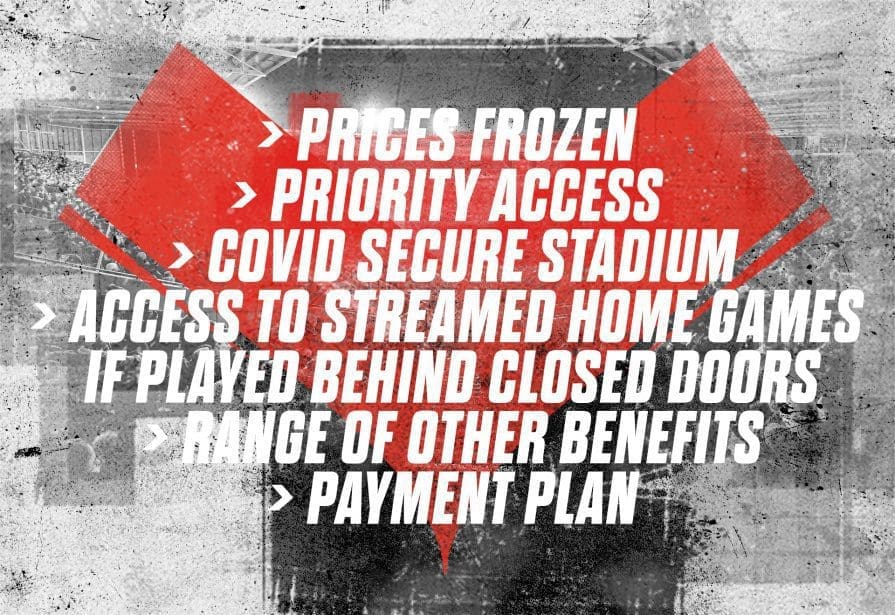 SOME IMPORTANT INFO FOR MEMBERS…
STADIUM RESTRICTIONS:
Please be aware that to comply with Government mandated social distancing measures and to ensure compliance with safety and legal guidelines, you may not be seated or stood in the exact location as reserved in your renewed Membership. We may be required to re-allocate seats or positions to each 2021 Member until these restrictions are lifted, after which you can revert back to your exact chosen place. We will endeavour to designate locations as close as possible to your normal renewal and ticket category, whilst best endeavouring to allow 'bubbles' of fans who purchase their tickets together on one booking, to be located with each other. This may however mean that fans can only renew tickets together from within their own 'bubble' in which they have to provide evidence of to secure their Membership.
Please note that 2021 Memberships are sold subject to updated terms and conditions which can be viewed below: T&Cs
Please ensure you are aware of these before renewing your Membership.

HOW TO BUY:
All Members can renew via the Ticket Office at the Totally Wicked Stadium, by calling 01744 455052 or email [email protected] (opening times may vary)
DONATING 2020 MEMBERS:
Donating Full Members can renew their membership online by logging into their ticketing account at: https://tickets.saintsrlfc.com the online renewal option does not include any availability to amend bookings, add or remove members or to move seats or stands. Please only renew online if your booking remains identical to 2020.
REFUNDING 2020 MEMBERS:
Refunding Members must renew via the Ticket Office, your reservation will not appear in your online account due to your booking having been refunded. Please be reassured your 2021 reservation is secure. REFUNDING Members can access the Direct Debit plan but must do this via the Ticket Office.
CREDITING 2020 MEMBERS:
2020 Members who chose to CREDIT can contact the Ticket Office to confirm their crediting value to be deducted from their membership price and to renew. 2020 Members who chose to CREDIT MUST renew via the Ticket Office. Attempting to renew online will result in your Crediting value not being deducted and your renewal being the incorrect price. CREDITING Members can also access the Direct Debit plan but must do this via the Ticket Office to confirm their Crediting value to be deducting from their Renewal price.
 For ANY renewal involving a DIRECT DEBIT please renew via the Ticket Office or download the direct debit form online here. To amend your booking please contact the Ticket Office.'
BENEFITS:
2021 Membership Access card.
All your 2021 Betfred Super League home games in one ticket.
Your ticket reserved for additional major home games such as World Club Challenge.
Priority access to 2021 Home fixtures in the event of a limited stadium capacity.
Access to streamed home fixtures if they are played behind closed doors.
Exclusive Club news straight to your mobile or other device via email.
Exclusive Member only merchandise and stadium promotional offers sent to you directly via email.
Matchday Kiosk promotional offers (subject to availability and stadium restrictions)
50% off 2021 Magic Weekend ticket.
KEY DATES: 
Extended Renewal Window closes – 25th February 2021
Direct Debit Plan Application Window closes – 25th February 2021
Fans who have registered their interest to become a Member in 2021 will be contacted once we know details of stadium capacity when the season begins.
2021 Season scheduled to begin 11th March 2021.
NEW MEMBERS:
With stadium capacity likely to be restricted for the start of the season, we are prioritising our existing Members, those looking to become a new Member for 2021, can email an expression of interest that we will keep on record and we will look to open sales to those who register, once we have more confirmed information closer to the season starting around the likely stadium capacity limits.
To do this please email: [email protected] with your NAME & CONTACT DETAILS INCLUDING PHONE AND EMAIL ADDRESS.
FOR A FULL BREAKDOWN OF ALL MEMBERSHIP INFORMATION INCLUDING PRICES, BENEFITS, HOW RENEW YOUR YOUR MEMBERSHIP AND T&Cs PLEASE CLICK HERE.
You can also call 01744 455052 or email [email protected] for more info or to enquire.