Saints take on Wakefield Trinity in the Betfred Super League Round 3 at The Totally Wicked Stadium on Friday 16 April (6pm) land you can read all of the pre match news in our match preview story!
BACKGROUND…
It's the third round of the Betfred Super League and Saints host Wakefield Trinity looking to make it three wins from three following victories over Salford and Hull KR in the league.
Wakefield come into this looking for their first win of the new campaign after defeats to Leeds Rhinos (22-28) and Wigan Warriors (34-6).
LAST TEN MEETINGS:
St Helens have won their last four home meetings with Wakefield (including last season's game at Warrington). Trinity's last away victory against the Saints was 16-12 on 3 March, 2017.
St Helens 48, Wakefield 6 (SLR9, 15/10/20)
Wakefield 16, St Helens 20 (SLR15, 9/10/20)
St Helens 26, Wakefield 6 (SLR24, 2/8/19)
St Helens 48, Wakefield 10 (CCQF, 1/6/19)
Wakefield 18, St Helens 24 (SLR2, 10/2/19)
Wakefield 16, St Helens 36 (SLS8-R2, 16/8/18)
St Helens 34, Wakefield 30 (SLR19, 29/6/18)
Wakefield 24, St Helens 20 (SLR11, 15/4/18)
Wakefield 16, St Helens 18 (SLS8-R5, 7/9/17)
Wakefield 16, St Helens 41 (SLR23, 23/7/17)
Super League summary
St Helens won 41
Wakefield won 9
St Helens highest score: 64-16 (H, 2005) (Widest margin: 60-4, H, 2005)
Wakefield highest score: 41-22 (H, 2004) (also widest margin)
21 MAN SQUADS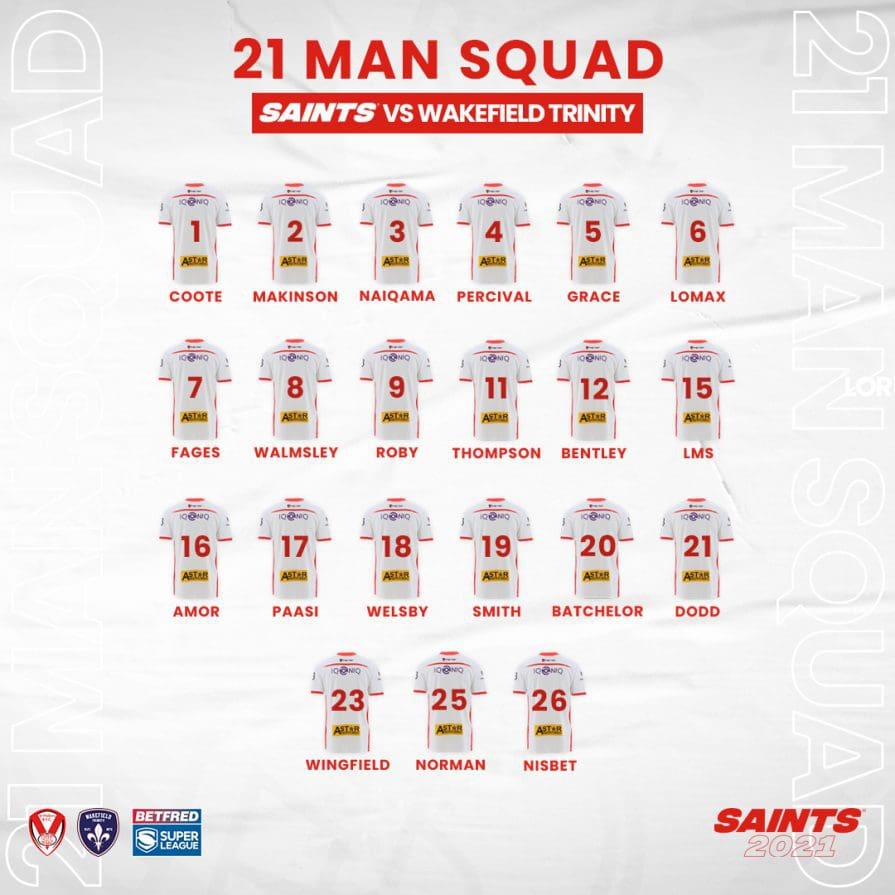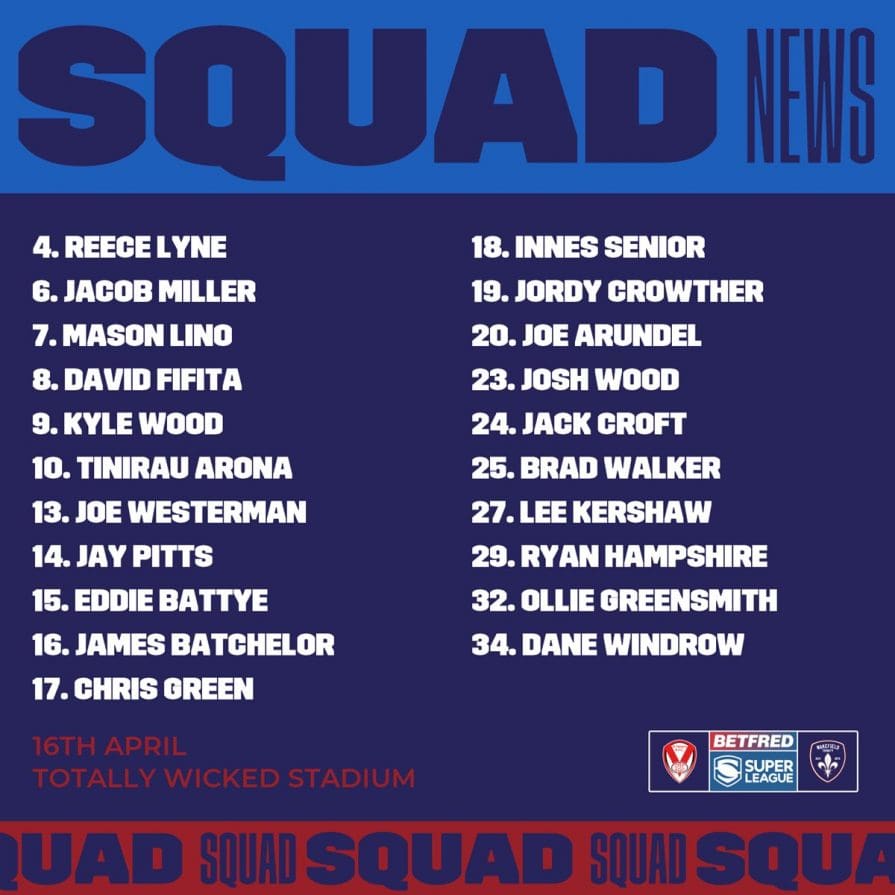 COACHES PREVIEW
Head over to Saints TV to listen to Kristian Woolf give an insight into his team for tomorrow's game.
Kyle Amor also looks ahead to a clash against his former Club here.
KIT?
Saints are the home team and will play in our traditional red and white kit.
FANS?
Following the Government guidelines the game will again be played behind closed doors.
WHERE CAN I WATCH THE GAME?
The game is only available for 2021 members to watch via a unique code on the RFL's Our League app. Read more here including how to watch on the app. Please note the deadline for codes for this week's game has now passed.
Supporters can also follow the game on our official Twitter, Facebook and Instagram accounts as well as on our Live Match Centre.
Reaction will follow the Full-Time whistle on our website and social media channels whilst the highlights and the full 80 minute replay will be on Saints TV over the weekend for subscribers.
MATCHDAY E-PROGRAMME
Download our third 2021 edition of the Club's official e-programme, a solely digital version of the traditional matchday programme, which is now available to view for FREE in our new GameHub! Click here to read all about it.
The Club recently linked up with MatchDayInfo, the global providers of digital match day programmes, which will see the Saints Matchday E-Programme available to view on an App and new-look 'GameHub' platform.
You can also click here if you want to download and print the E-Programme.
Alternatively just scan the QR code with your phone camera below.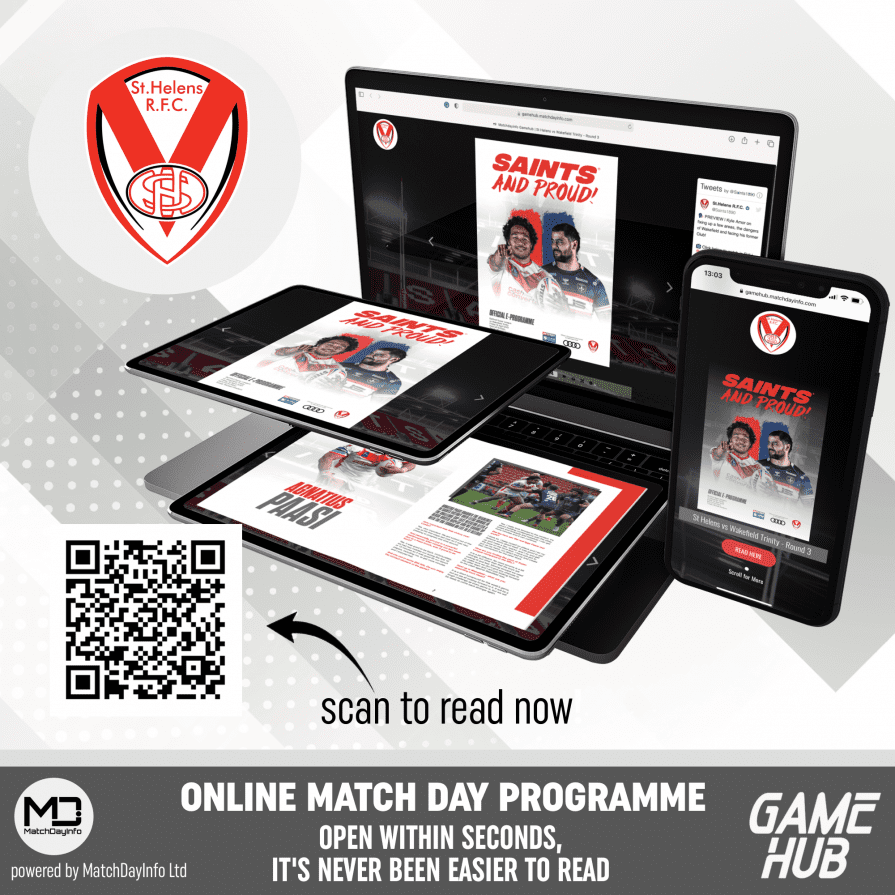 Fans can also download the MatchdayInfo App for FREE to their Android or iPhone device. Once you have downloaded the FREE MatchDayInfo App on your Android or iPhone device select 'St Helens' as your Club and you will receive a push notification as soon as we upload the latest edition of our e-programme to the App! Also available on the App is the full set of 2019/20 issues which you can enjoy.
In today's edition we have some words from Agnatius Paasi, plus an insight from Head Coach Kristian Woolf. We have a look back in time thanks to Saints Heritage Society. We also have all the low-down on Wakefield. Don't forget to CLICK the links to watch the videos and find out more about all our partners through their adverts.
RIVALS WATCH
Thursday:
Leeds Rhinos vs Wigan Warriors – 7.45pm – Sky Sports
Friday:
Castleford vs Leigh – 6pm 
St Helens vs Wakefield – 6pm – Our League
Hull KR vs Huddersfield – 7.45pm
Saturday:
Catalans vs Salford – 6pm – Sky Sports
Sunday:
Hull FC vs Warrington – 3pm