Club matches don't get bigger than this. The best of Europe taking on the best of Australia for the right to be crowned World Club Champions in the World Club Challenge on Saturday!
THE BATTLE FOR WORLD GLORY
For the first time since 2020, the World Club Challenge is back and it could not be a bigger match up of Champion sides.
Our FOURmidable St Helens earned their place in this game by securing a fourth straight Betfred Super League title last September at Old Trafford. Paul Wellens is now the man in charge as Head Coach after working under both Justin Holbrook and Kristian Woolf, as well as serving as Assistant Coach for England.
Saturday's World Club Challenge will be Wellens' first official competitive match as the boss and he is relishing the opportunity to bring home another trophy. Saints are on the hunt for a historic third world championship following their wins in the competition in 2001 and 2007, both of which came over Brisbane Broncos, and both of which Wellens played in too.
The opposition and home team are the back-to-back NRL premier winning Penrith Panthers who are being discussed as one of the best club sides ever in Australia, and it's easy to see why. Runners up in 2020 before winning the last two Grand Finals, Ivan Cleary has a side littered with talent and it shows no sign of slowing down – much like the Saints. Penrith have yet to win the World Club Challenge, and with this game in their own backyard it seems this is their best chance to do it yet.
So, it is a meeting between two giants of the rugby league world, both have been dominant in their respective competitions and will be representing them proudly. At the end of the game, one team will be the World Club Champions…
WHEN, WHERE AND HOW TO WATCH?
The World Club Challenge takes place at the BlueBet Stadium in Penrith, Australia, with kick-off at 6:50pm AEDT / 7:50am GMT.
Fans who have travelled over to watch the game in person can only get tickets from the NRL's ticketing platform.
Supporters back in the UK can cheer on the Saints by watching live on Channel 4 or on Sky Sports (Arena/Mix) from 7:45am.
HOW CAN I FOLLOW THE GAME?
Saints will be covering the match in full across our live Match Centre where you can find out the team news, follow live game updates, get behind the scenes photos and catch up on all the stories of the game.
Our club social media accounts will also keep supporters updated. Follow us on: Twitter | Facebook | Instagram
WELLENS' PREVIEWS THE WORLD CLUB CHALLENGE
Head Coach Paul Wellens caught up with Saints TV following the Captain's Run and discussed how big an opportunity this historic game is not only for St Helens as a club, but the whole of the British game.
SQUAD NEWS
Paul Wellens has named a strong 22-man squad for Saturday's game with Morgan Knowles expected to feature after missing out last week due to sickness, but he is back in good health.
The major absentee is England international Joe Batchelor who suffered an ankle injury in last week's game against St George Illawarra Dragons which will require surgery when the team returns to the UK. Saints will issue an update on Joe following his surgery.
Mark Percival is in line to make his 200th Saints appearance, a remarkable achievement in what is his testimonial year. James Roby is also set to make his 523rd career appearance for St Helens as he leads the charge into the World Club Challenge as captain.
Nine of our Saints have previous World Club Challenge experience, they are; Morgan Knowles, Matty Lees, Jonny Lomax, Tommy Makinson, Louie McCarthy-Scarsbrook, Mark Percival, James Roby, Alex Walmsley and Jack Welsby.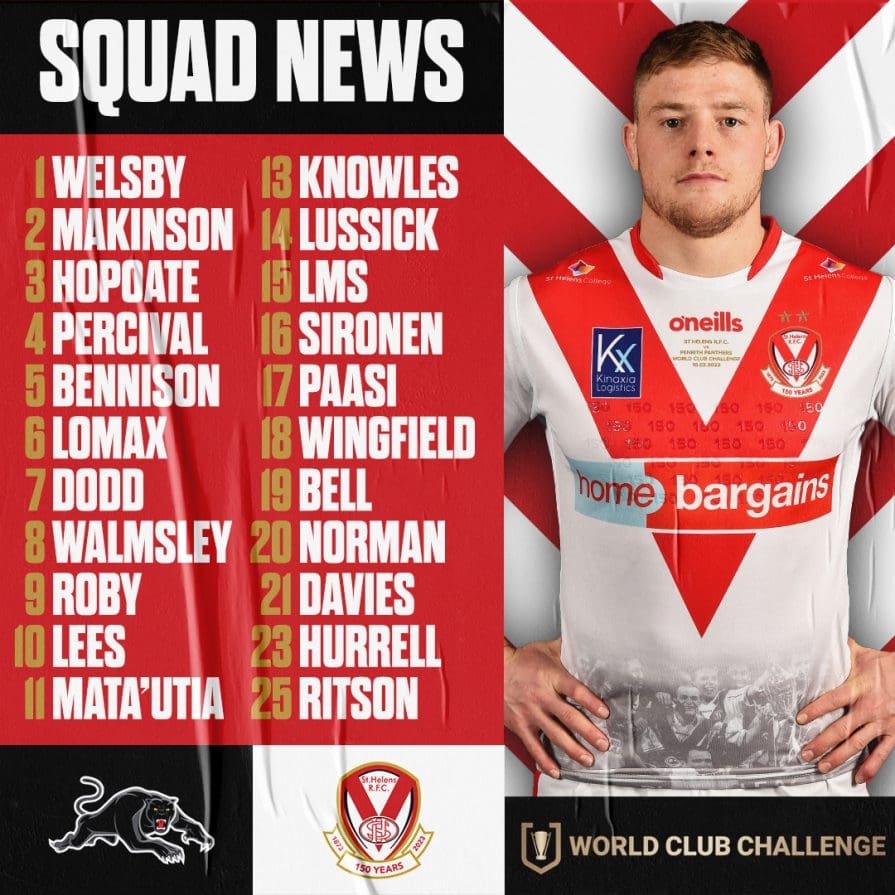 WHAT KIT WILL SAINTS BE WEARING?
For the historic clash on Saturday St Helens will be wearing a Special Edition 2023 World Club Challenge Shirt, which at its core is the highly popular 2023 Home Shirt with features to commemorate the World Club Challenge such as imagery of our previous wins of the competition in 2001 and 2007.
This shirt is now available to pre-order online only by visiting saintssuperstore.com.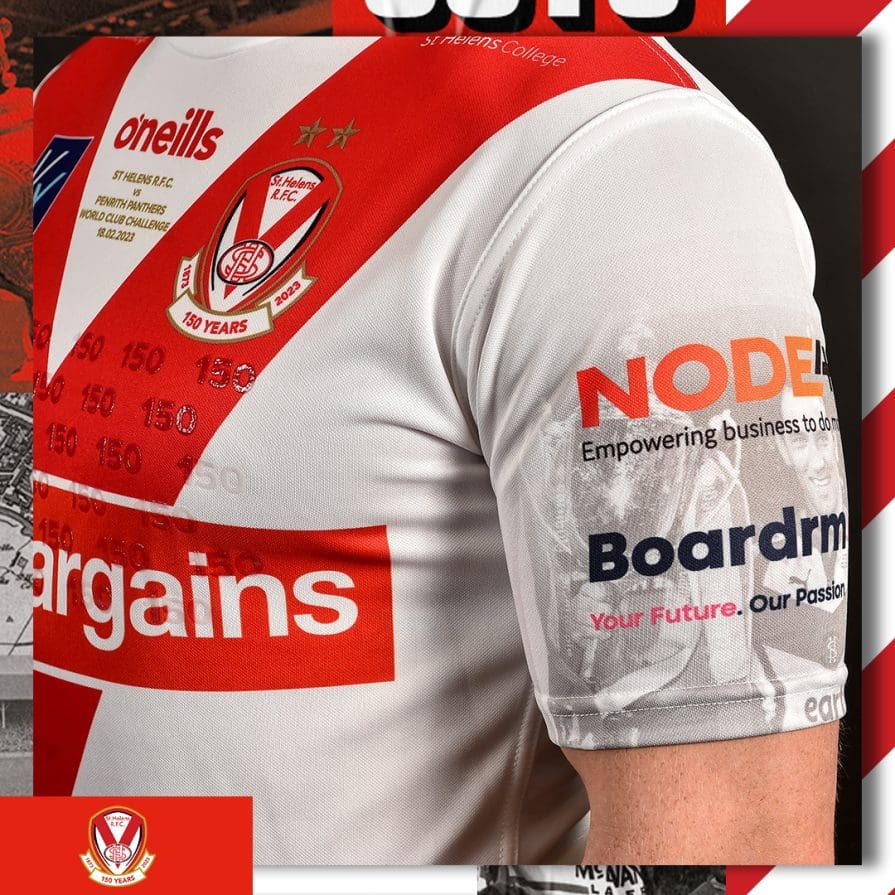 WORLD CLUB CHALLENGE AND THE NRL PRE-SEASON CHALLENGE EXPLAINED
Despite this being a standalone match to determine the World Club Champions, the fixture between Saints and the Panthers is also part of the NRL's all-new competition this year – the Pre-Season Challenge.
All 17 NRL clubs, plus St Helens, compete over two weeks in two matches, with $100,000 being awarded to the winner. But how do you win? By getting the most points as part of the Pre-Season Challenge points system.
Points are awarded for wins and draws, but also for tries, line-breaks and offloads. Here's a breakdown of the scoring system:
Win – 12 points
Draw – 6 points
Loss – 0 points
5+ tries – 1 point
5+ line breaks – 1 point
10+ offloads – 1 point
After Week One, St Helens picked up 14 points with the win over St George Illawarra Dragons, scoring five tries and making over five line breaks, and sit 6th in the Pre-Season Challenge Ladder.
In the event of two teams being tied on points at the end of Week Two, a tiebreaker system is also implemented.
WHO WILL BE THE MAN IN THE MIDDLE?
Ashley Klein will be the referee for Saturday's World Club Challenge, being assisted by Touch Judges Darian Furner and David Munro. Furthermore, The Bunker (Video Referee) will be in use at the game with Chris Butler as the Bunker Review Official.
ARE THERE DIFFERENT GAME RULES AND WHY WAS THE KICK-OFF MOVED?
This match was originally set to kick-off at 6pm AEDT / 7am GMT but this has been moved now to a kick-off of 6:50pm AEDT / 7:50am GMT.
The decision has been taken due to player safety concerns around the forecasted heat and humidity in Regional NSW and Western Sydney. It is forecast to be 39 degrees in Penrith on Saturday, so there will be 18 players allowed to feature, with also an increase of interchanges from eight to 10, and the match will be played in quarters to allow for water breaks.
Should the game be tied after 80 minutes it will go to golden point to determine a winner of the World Club Challenge.