Saints suffered a late defeat away at Leigh Leopards, 20-12 on Friday night.
Line-up to take on Leigh 🔒 locked in ✊

Roby, Paasi, Davies, Royle, and Bell are in our Saints starting side, and it will be career game 4️⃣5️⃣0️⃣ tonight for @LouieMS14, off the bench! 👏

Follow the game with our Match Centre ⬇#COYS | #HistoryInTheMaking

— St.Helens R.F.C. (@Saints1890) March 10, 2023
After working the ball downfield following a Leopards knock on early on, the hosts then laid a high shot on Matty Lees, Saints opted for two and Tommy Makinson converted the penalty from in front of the sticks, 0-2 we led.
That lead was extended in the tenth minute. Saints moved downfield and on the last Jonny Lomax kicked high to the right edge, Makinson patted the ball backwards back to Lomax who was able to spin his way over the line to score. Makinson converted, 0-8.
Nineteen minutes in, Saints had their second try. An incorrect play the ball in the Leigh half gave Saints possession in great field position, a couple of tackles into their set the ball was shifted left and Jack Welsby threw a cut-out pass to allow Jon Bennison to stroll in at the corner. Makinson's attempt bounced out off the post, 0-12.
Jon Bennison is over for his first try in 2023! 👊#SuperLeague #SLLeiStH pic.twitter.com/WJPbS5icBg

— Betfred Super League (@SuperLeague) March 10, 2023
The best chance for the hosts came 28 minutes in. A break down their right edge saw Zak Hardaker tackled in the Saints twenty. Another tackle then passed by before Edwin Ipape's pass was fumbled as Leigh looked to capitalise on a retreating Red V defence, 0-12 it remained.
Louie McCarthy-Scarsbrook then entered the game to make his 450th career appearance. Congratulations, Louie!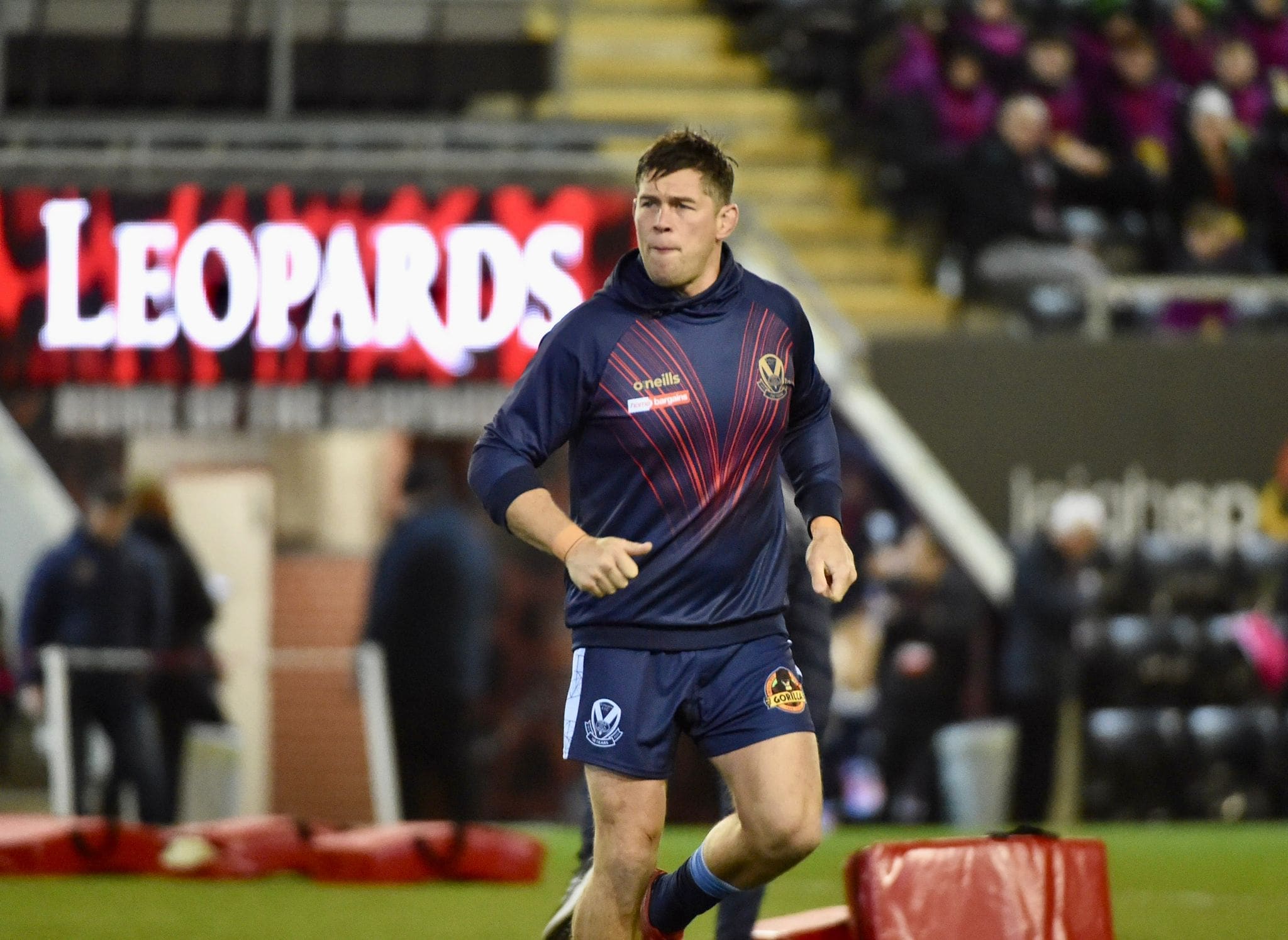 Another chance quickly followed, the Leopards threw it from right to left but were held up over the Saints line, much to the disagreement of the home fans who had thought Ricky Leutele was over for four points.
Despite both sides having strong chances to add to the score line, it remained 0-12 to the Red V at the break at a freezing Leigh Sports Village in a hard fought first 40.
⏸ Saints are 0-12 up at the break here at Leigh Sports Village#COYS | #HistoryInTheMaking pic.twitter.com/4VYpkNJI6i

— St.Helens R.F.C. (@Saints1890) March 10, 2023
Saints had a chance to add to their lead ten minutes into the second half. A penalty in the Leigh twenty after Hardaker was penalised for dissent after disagreeing with the referee's decision. That gave Saints a set in excellent field position. Despite that, the visitors set ended with the hosts defence holding firm, as Bennison was forced into touch on the last tackle, 0-12.
Leigh then were awarded a penalty of their own in the very next set for offside and began to move downfield. A few tackles in the hosts kept the ball alive as Hardaker found Joe Mellor, he found Edwin Ipape, but the PNG International fumbled the ball as he headed for four points after some great last ditch Saints defence.
Leigh then grabbed their first points. The hosts were awarded another penalty and moved it to their left edge where Josh Charnley cut in off the wing before finishing in the left corner. Hardaker missed the kick, 4-12.
Saints then had a small chance to increase their lead. Makinson made a great break down the right touchline and kicked the ball ahead, but it wouldn't sit right for the waiting Welsby and bounced into touch, 4-12.
With 15 minutes to go, Matty Lees was sent to the sin bin following a high shot on Gareth O'Brien after he had collected a high kick. The hosts took full advantage. On the last and in the Saints twenty, Leigh opted to kick high to their right edge and the ball was batted down into the arms of Tom Briscoe who went over. Hardaker  missed the kick, 8-12.
The hosts then took the lead with nine minutes to go. Once again the Leopards moved downfield and the visitors were unable to wrap up Hardaker who spun away to score underneath the sticks. Hardaker converted, 14-12 the Leopards led.
A fourth Leigh try soon followed. A kick on the last in Saints territory was knocked on by Lewis Dodd and that allowed Joe Shorrocks to pick up the loose ball and score. Hardaker converted to give the hosts a two-score lead for the first time on the night, 20-12, with three minutes left.
Leigh saw out the game and claimed a big scalp for their records over the Saints, who suffered back to back late defeats which is something that has become unusual in recent times.
Paul Wellens men now have even more motivation to put right a couple of wrongs and get both the performance and the result against Hull FC next Friday night at the Totally Wicked Stadium.
The Saints fall to a late away defeat at the Leigh Sports Village#COYS | #HistoryInTheMaking

— St.Helens R.F.C. (@Saints1890) March 10, 2023
Match Summary
Leigh Leopards Team: Gareth O'Brien, Tom Briscoe, Zak Hardaker, Ricky Leutele, Josh Charnley, Joe Mellor, Lachlan Lam, Tom Amone, Matty Davis, Robbie Mulhern, Joe Shorrocks, Kai O'Donnell, John Asiata.
Interchanges: Ben Nakubuwai, Ava Seumanufagai, Ed Chamberlain, Edwin Ipape.
18th Man: Tom Nisbet
Tries: Josh Charnley (56), Tom Briscoe (66), Zak Hardaker (71), Joe Shorrocks (77)
Conversions: Zak Hardaker (2 from 4)
Saints Team: Jack Welsby, Tommy Makinson, Ben Davies, Mark Percival, Jon Bennison, Jonny Lomax, Lewis Dodd, Agnatius Paasi, James Roby, Matty Lees, Sam Royle, James Bell, Morgan Knowles.
Interchanges: Alex Walmsley, Joey Lussick, Louie McCarthy-Scarsbrook, Jake Wingfield.
18th Man: Tee Ritson
Tries: Jonny Lomax (10), Jon Bennison (19)
Conversions: Tommy Makinson (1 from 2)
Penalties: Tommy Makinson (1 from 1)
Sin Bin: Matty Lees (65)
HT: 0-12
FT: 20-12
Attendance: 7,734
Bernard Platt (@plattyphoto) captured the game at Leigh