St Helens Women are in Nines action on Sunday at Warrington's Victoria Park!
The Nines Tournament will take place on Sunday morning and afternoon. The finals day has already been confirmed to be played at Salford Red Devils' AJ Bell Stadium, on Saturday 24th June.
Who Will Saints Play?
St Helens Women have been drawn in a group with Featherstone Rovers, Hull KR and Newcastle Thunder.
The Red V last faced Featherstone in the Semi-Finals of last year's Betfred Women's Challenge Cup, winning 82-0. Whilst they have never faced either the Robins or the Thunder in a fixture before.
The games will take place on pitch three, the same pitch that the Red V played on in the 2022 competition.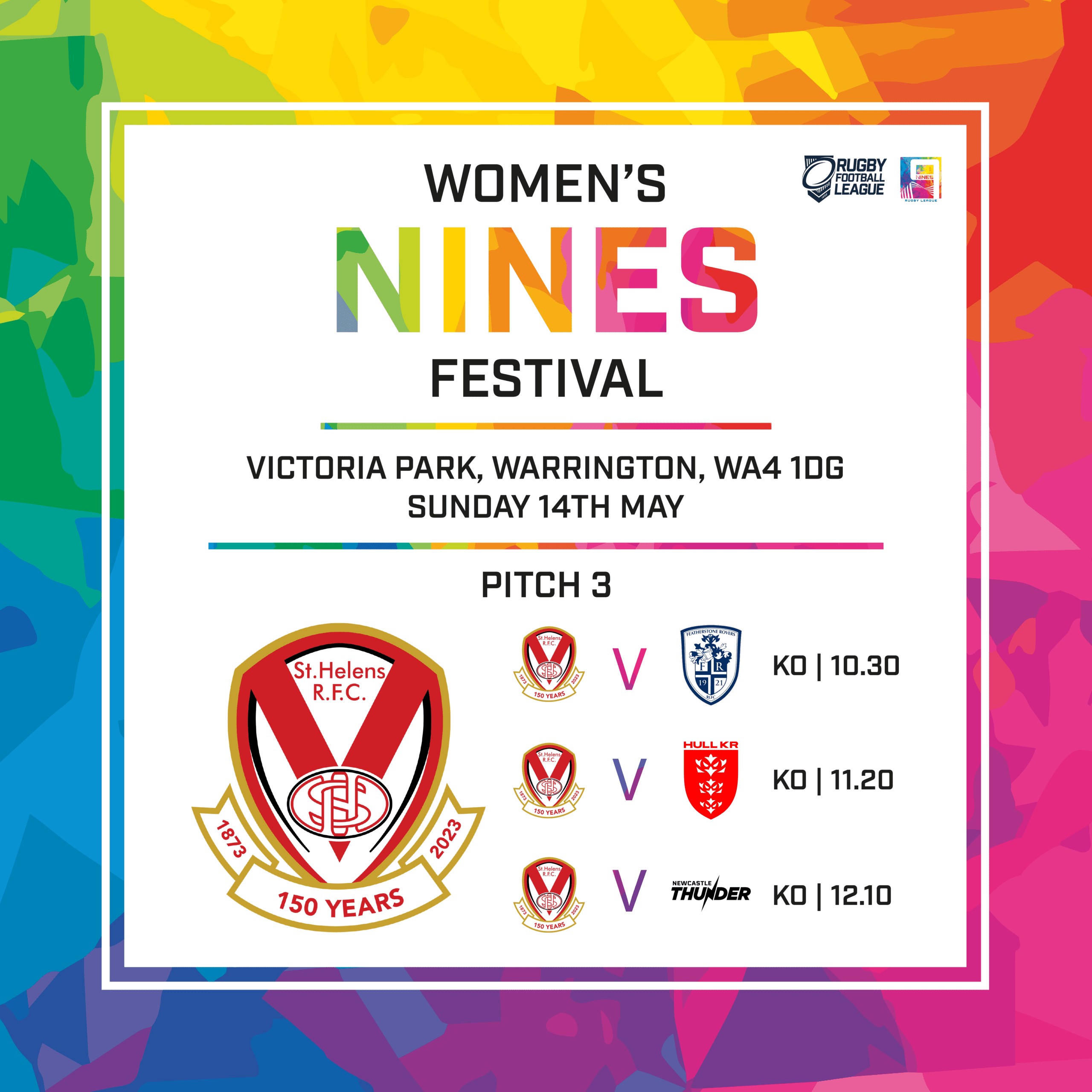 The Location?
All fixtures will be played at Victoria Park in Warrington (WA4 1HN), the same location Saints played all of their home games during their treble winning 2021 campaign.
Cost Of Tickets?
Tickets for Sunday's event are FREE, so it is the perfect excuse for a family day out to watch some fast paced rugby league!
What Time Are Our Fixtures?
We will play three games during the day of the tournament. They are as follows:
St Helens Women vs Featherstone Rovers – 10:30am
St Helens Women vs Hull Kingston Rovers – 11:20am
St Helens Women vs Newcastle Thunder – 12:10pm
Have We Announced Our Squad?
Matty Smith has named his squad that will be available to play at this weekend's Nines Tournament below:
How Do We Know Group Standings?
Points available are the same as they would be in a normal regular season game:
Win – Two Points
Draw – One Point
Loss – No Points
The team with the most points from each group will progress to the final days at Salford's AJ Bell Stadium on Saturday 24th June.
An additional wildcard place will be available for the finals based on competition points and strategic advantage from the second placed teams.
Should teams finish level on points, these are the rule breakers:
Points Difference
Points Scored
Head to Head
What Are The Rules?
For the most part, the rules in Nines are the same as your normal game of rugby league. However, there are a few changes…
Each half will last for nine minutes, making each game 18 minutes long.
Each team will only have nine players on the pitch, each club can also name six interchanges with no limit to have many substitutions you can make during each match.
However, you can only substitute two players at one point.
All scrums will have five players from each side in them (three players in the front row, with two in the second). No more than four players to be outside of the scrum.
With the absence of touch judges at the tournament, 40/20's will not be awarded.
All tries will count as four points, apart from those in the 'bonus zone' which will count for five. The 'bonus zone' is located in the in-goal area between the goalposts at each end of the playing field.
All conversion attempts will be taken in the form of a drop goal, in line with where the try has been scored.
Penalty kicks will also be taken as a drop goal, and will be worth two points. Field goals in general play will be awarded one point.
Kick offs must be taken as a dropkick and has to travel at least ten metres forward.
All restarts following tries will be taken by the scoring team, with the team that has conceded receiving the ball to ensure all teams get the chance to have possession of the ball.
In the Nines format, all sin bins will last for three minutes.
All teams will have six tackle sets (unless there is a knock on or penalty awarded).