A place in the Betfred Challenge Cup quarter-finals is up for grabs on Friday night when the Saints head to Halifax for the first time since 2003, with kick-off scheduled for 7:45pm.
On the back of a good win over Salford Red Devils at home last Saturday, Saints are looking to start their Challenge Cup journey for 2023 with a win over a very game Halifax Panthers side. The hosts have already won three matches in the knockout competition and will be raring to go and give their on their own turf on Friday night.
TICKET INFORMATION
Saints fans can purchase tickets with the Club for this Challenge Cup fixture up until 9am on Friday, 19th May.
Ticket collections from the Saints Ticket Office will be available until 12pm (noon), after which collections must be made at The Shay Stadium's Ticket Office or Main Reception, both of which are located in the East Stand.
Entry to the stadium will be open from 5:45pm.
Advance Prices @ The Shay
North Stand (Standing)
Adults £17 – Concessions (65+) £12 – Young Adults (16-24) £9 – Juniors (U16s) £5 – Junior ST Holders FREE
East Stand (Seated)
Adults £20 – Concessions (65+) £15 – Young Adults (16-24) £11 – Juniors (U16s) £5 – Junior ST Holders FREE
Paying on the gate @ The Shay
Please note that match prices for tickets increase on gameday.
Cash turnstiles will be available for Saints fans in the North Stand (Standing), with limited seats available in the East Stand (Seating).
For supporters who wish to pay for entry by card then please visit The Shay's Ticket Office in the East Stand.
SQUAD NEWS
Paul Wellens' squad has three changes to the one that was declared for the win over Salford, as James Roby steps out and both Matty Lees and Curtis Sironen are serving match suspensions.
Morgan Knowles following his own ban is now available for selection, as are Agnatius Paasi and Sione Mata'utia following injuries.
Read more about our latest squad news, including an update on Konrad Hurrell, by clicking the image below.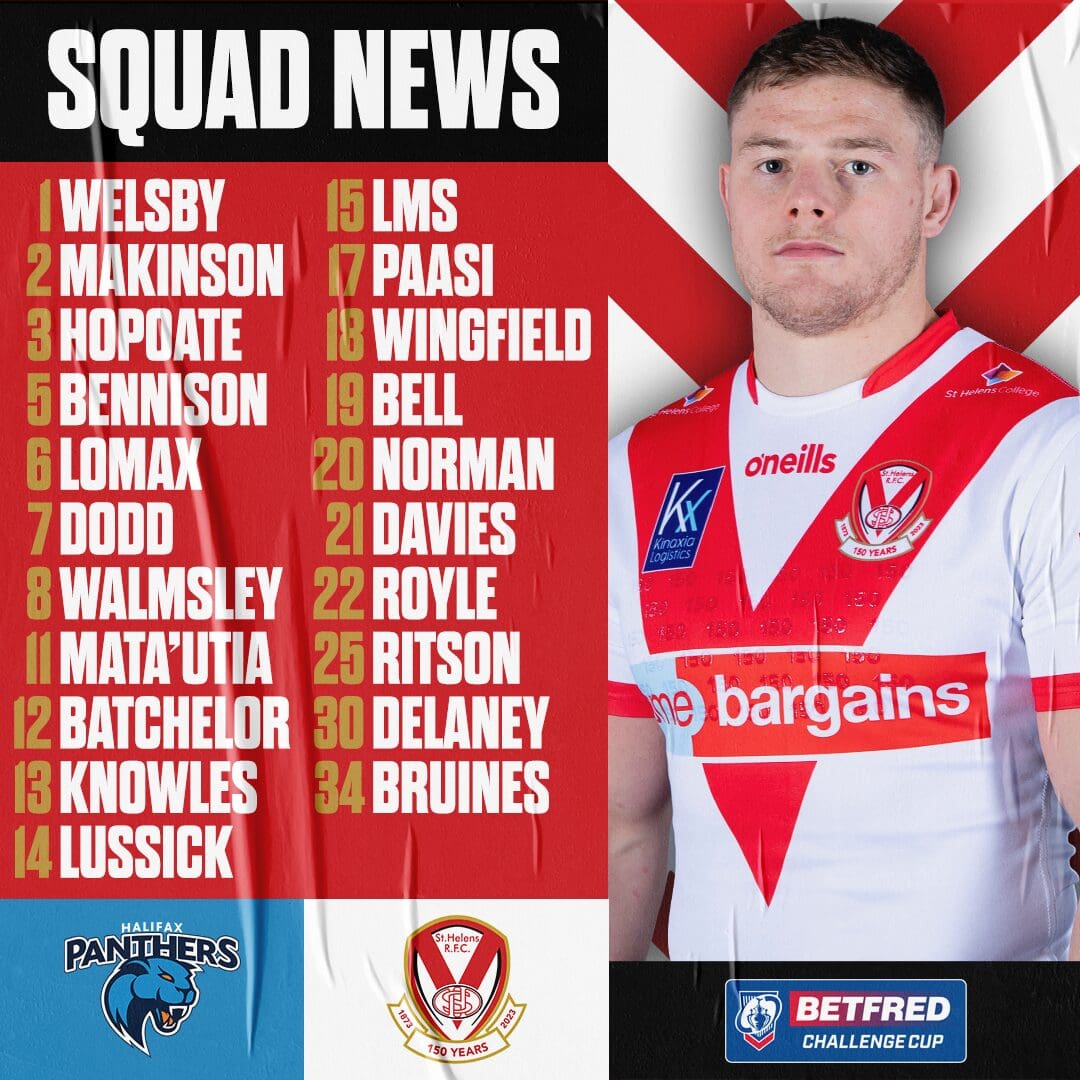 Halifax Panthers have named a strong squad with their first choice 1 to 14 available including their influential half-back pairing of French international Louis Jouffret and Irish international Joe Keyes. With exciting outside backs too in their ranks such as James Woodburn-Hall, James Saltonstall and Lachlan Walmsley, Simon Grix's men look to move the ball a lot.
Halifax Panthers 21-man squad vs St Helens
1. James Woodburn-Hall, 2. Lachlan Walmsley, 3. Zack McComb, 4. Ben Tibbs, 5. James Saltonstall, 6. Louis Joufrett, 7. Joe Keyes, 8. Adam Tangata, 9. Brandon Moore, 10. Dan Murray, 11. Ben Kavanagh, 12. Matty Gee, 13. Jacob Fairbank, 14. Kyle Wood, 16. Will Calcott, 18. Brandon Pickersgill, 19. Ryan Lannon, 20. Tom Inman, 21. Eribe Doro, 22. Jake Maizen, 31. Kevin Larroyer
WELLENS EXPECTING HIGHLY MOTIVATED HALIFAX SIDE
The boss is very aware that Halifax will be highly motivated, are in good form in the Cup, and will not be taking them lightly.
Wellens wants his side to build on the second half against Salford which saw the Saints score 20 of the 26 unanswered points on the day.
Saints TV subscribers can watch Paul Wellens' full match preview!
A LOOK AT THE OPPOSITION…
2023 has been a good year so far for Halifax, in the Betfred Championship they currently sit fourth in the table and are firmly in the hunt for play-off rugby come the end of the regular season. They are still standing in the Challenge Cup having beaten Featherstone Rovers who currently sit at the top of the league table, Barrow Raiders and their local rivals Bradford Bulls with a strong score of 26-0.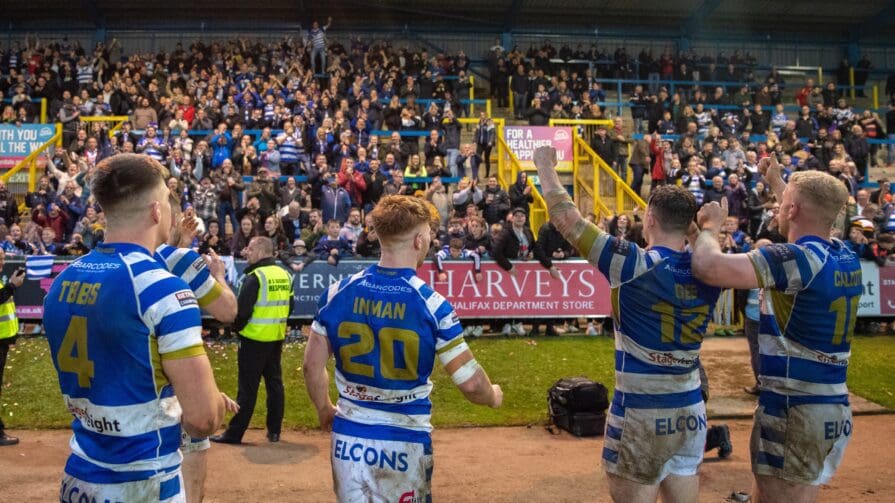 The former 'Blue Sox' re-branded at the end of 2020 into the Panthers as part of a long-term view to build success and perhaps earn their way into Super League. They are one of the Championship's best sides over the past three years, finishing in 3rd in both 2021 and 2022.
Head coach, Simon Grix has made a lot of changes to the squad for 2023 with players exiting such as Cory Aston, Titus Gwaze, Brad Knowles and Greg Worthington, and they brought in new signings such as Eribe Doro from Warrington Wolves, Ryan King from Featherstone Rovers and Will Maher from Hull KR.
WHO WILL BE THE MAN IN THE MIDDLE?
The referee for the match between Catalans and the Saints will be Aaron Moore, and he will be supported by touch judges L. Rush and R. Cox, and Marcus Griffiths of the video referee.
WHAT KIT WILL SAINTS BE WEARING?
Whilst it is an away fixture, St Helens will be wearing our popular 2023 Home Kit which features our 150 year crest and the traditional, old-school Red-V!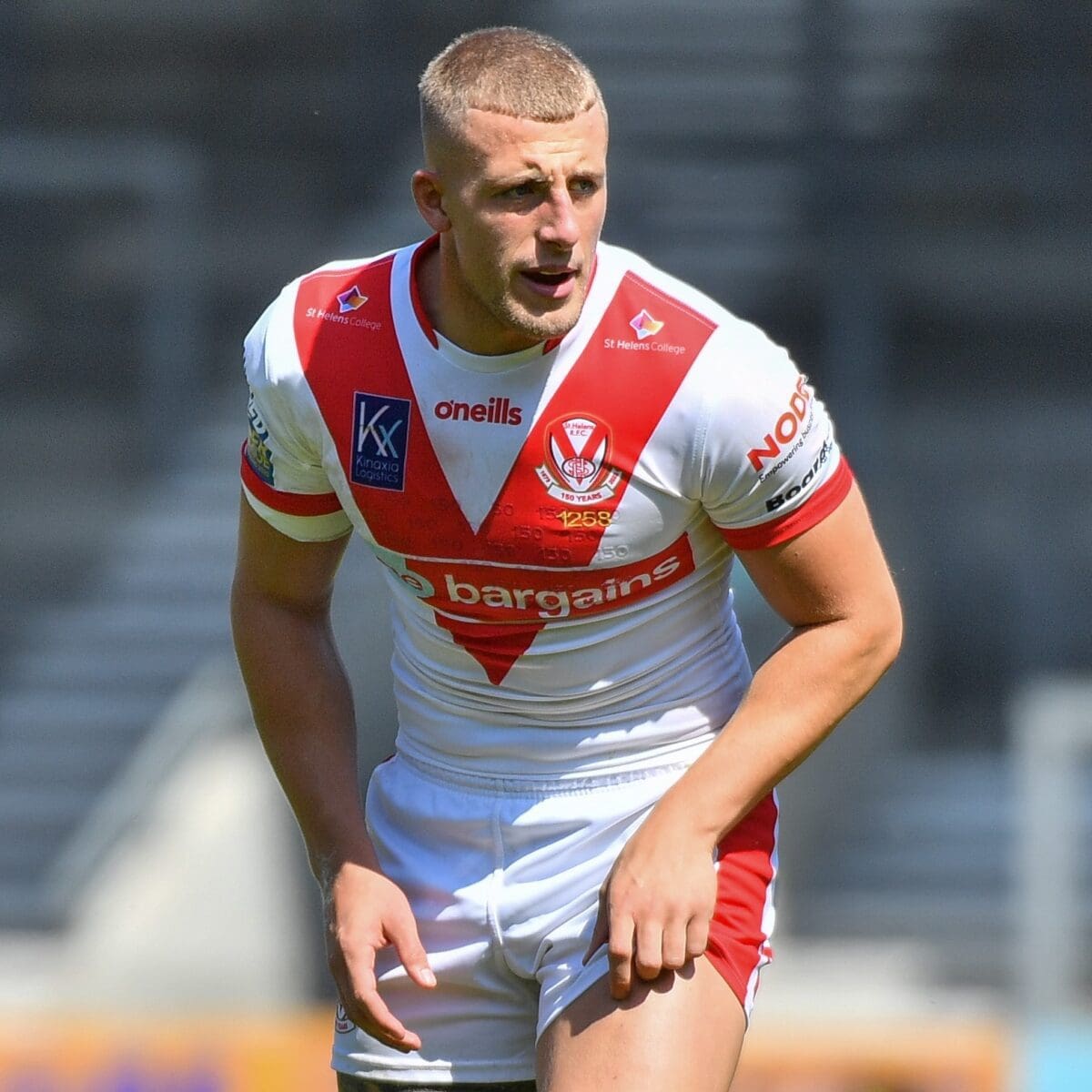 Pick yours up online by visiting saintssuperstore.com!
RECENT RECORD AGAINST HALIFAX
It's our first visit to The Shay in twenty years! Take a look at the most recent history when we have faced the West Yorkshire club.
Last ten meetings:
Halifax 2, St Helens 26 (CCSF, 27/7/19) (at University of Bolton Stadium)
St Helens 58, Halifax 2 (SLR15, 20/6/03) (at Knowsley Road)
Halifax 0, St Helens 38 (SLR8, 2/5/03)
St Helens 64, Halifax 0 (SLR24, 23/8/02) (at Knowsley Road)
Halifax 18, St Helens 21 (SLR20, 26/7/02)
St Helens 38, Halifax 6 (SLR9, 3/5/02) (at Knowsley Road)
Halifax 20, St Helens 26 (CCQF, 17/3/02)
Halifax 22, St Helens 46 (SLR20, 22/7/01)
St Helens 32, Halifax 26 (SLR10, 11/5/01) (at Knowsley Road)
Halifax 24, St Helens 28 (SLR16, 23/6/00)
Previous Challenge Cup meetings:
2019 (Semi-Final) Halifax 2 St Helens 26 (at University of Bolton Stadium)
2002 (Quarter Final) Halifax 20 St Helens 26
1991 (Quarter Final) Halifax 16 St Helens 24
1987 (FINAL) Halifax 19 St Helens 18 (at Wembley Stadium)
1963 (Round 1) Halifax 9 St Helens 2
1956 (FINAL) Halifax 2 St Helens 13 (at Wembley Stadium)
1950 (Round 1, Second Leg) Halifax 2 St Helens 0
1950 (Round 1, First Leg) St Helens 10 Halifax 6
1933 (Quarter Final) St Helens 18 Halifax 3
1931 (Semi-Final) Halifax 11 St Helens 2 (at The Athletic Ground, Rochdale)
1910 (Round 2) Halifax 21 St Helens 6
1909 (Round 1) Halifax 15 St Helens 8
1904 (Round 1) Halifax 15 St Helens 0
BEN BUZZING TO BE BACK
Centre Ben Davies marked his return to action with the win on Saturday against Salford!
The 23-year-old suffered an ankle injury back in March but worked hard on his rehab to get back into the mix as soon as he could. Following the win over the Red Devils, Davies pays tribute to James Roby and looks ahead to a tough task at The Shay against Fax.
Head over to Saints TV to watch the chat with Ben in full!
THE REST OF ROUND SIX IN THE CHALLENGE CUP
Friday
Wakefield Trinity vs Leigh Leopards – 7.45pm
Hull KR vs Batley Bulldogs – 8pm
Saturday
Leeds Rhinos vs Wigan Warriors – 2.30pm
Catalans Dragons vs Warrington Wolves – 5pm
Salford Red Devils vs Huddersfield Giants – 7.30pm
Sunday
Castleford Tigers vs Hull FC – 3pm
York vs London Broncos – 3pm
HOW TO WATCH ON VIAPLAY
Sky customers signing up at www.viaplay.com can watch live this Fridat on Viaplay Sports 1, channel 412. New customers can subscribe from just £11.99 per month with no connection fee. Viaplay customers on Sky will also receive free access to the Viaplay streaming service by registering here – https://viaplay.com/gb-en/premier-sports
Online Streaming Service (Web, iOS App, Android App): www.viaplay.com Watch live online just £11.99 per month.
Virgin customers: Viaplay Sports channel 551. You can subscribe for £12.99 per month via the provider with no connection fee or minimum contract. Call 0845 840 7777 or set up viewing via box. (Press Home > Apps and Games > All Apps > TV Upgrades.)
Amazon Prime. Viaplay is available on Amazon from £14.99 per month for Prime customers. New customers can sign up here – https://rb.gy/cpmg3e
Samsung. Viaplay is available on Samsung from £14.99 per month. New customers can sign up directly on the  Samsung platform.
Roku. Viaplay is available on Roku from £14.99 per month. New customers can sign up directly on the Roku platform.
HOW CAN I FOLLOW THE GAME?
Saints will be covering the match in full across our live Match Centre where you can find out the team news, follow live game updates, get behind the scenes photos and catch up on all the stories of the game.
Our club social media accounts will also keep supporters updated. Follow us on: Twitter | Facebook | Instagram
Highlights and the full match replay will also be made available for Saints TV subscribers.
The game will also be broadcast live on Viaplay to watch, and on BBC Radio Merseyside for radio commentary.